I wonder if being a tad early for March makes up for all the months that I've been a tad late getting these out. I'm ready to hit the road to Texas for a few days before doing a week of school workshops in western SC and southwest VA, so this has to be out the door on auto-pilot in time for Houston-area friends to get the reminder to join me at the legendary Anderson Fair Thursday night. But we also have something for you wherever you are on Tuesday March 20th with the "Spring is Here" vidcast.
We have the Live at Timucua concert video all edited and ready to go, and will have it available for download by mid-month, as promised. Plenty of details when we unveil it at the vidcast and in the April newsletter.
On a parting note, we're coping with a somewhat sudden goodbye to a beloved family member last week. Over the last 12 and a half years my orange buddy dropped in on vidcasts as well as my guitar lessons, and he was always laying around nearby while I worked at home. The presence of Gatito's absence is crushing all of us, and I am grateful for the welcome distraction of the road and the wonderful people who make it bearable to be away from home and family. I've not yet been able to collect my thoughts on the website blog, but I surely will soon. I have been blessed to have him in my home and my heart, and I'm blessed to have you in my life. Thanks for reading, thanks for listening, thanks for being your own wonderful self. Til next time.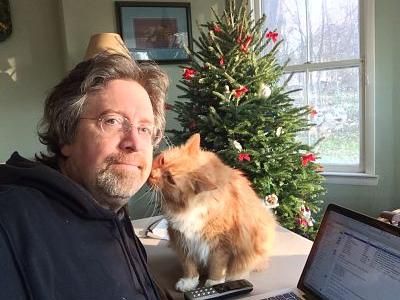 Self-portrait; A parting kiss, my dear old friend
---
JUST ONE LITTLE THING:
Invite your friends to tune in to the March 20th vidcast! It's a wonderful way to help connect with some new fans and friends, and I could afford to be less of a well-kept secret! It's easy to Follow me and get a day of show reminder at https://concertwindow.com/andrewmcknight.
Every month we'll include one small quick action you can do to help spread the word about Andrew's music. Your suggestions welcome too!
---
TH. MAR. 1 - HOUSTON TX, Anderson Fair, 2007 Grant St. 8:30pm
FR. MAR. 2 - DALLAS TX, Uncle Calvin's Coffeehouse, 9555 N. Central Expy. 8pm Bill Nash opens
SA. MAR. 3 - HUNTSVILLE TX, Thoreau Woods Coffeehouse, 144 E. Mosley Ln. 7pmBrittany Shane opens
SU. MAR. 4 - HUNTSVILLE TX, Special Music Service at Thoreau Woods U.U. Church, 144 E. Mosley Ln. 10:30am
FR. MAR. 9 - INDEPENDENCE VA, Historic 1908 Theatre, 107 E. Main St. 7pm
SA. MAR. 10 - MONTEREY VA, Highland Maple Festival Concert at Highland Center, 61 Highland Center Dr 7pm
SA. MAR. 17 - GERMANTOWN MD, Sugarloaf Coffeehouse at the Yurt, 16913 Germantown Rd. 7pm
SU. MAR. 18 - GERMANTOWN MD, Special Music Service at Sugarloaf Congregation of U.U., 16913 Germantown Rd. 10:30am
TU. MAR. 20 - VIDEO WEBCAST, ConcertWindow.com/andrewmcknight (see below) 9pm (EDT)
SA. MAR. 24 - ACCOKEEK MD, guitar for Tony Denikos & The Working Poor, Homegrown Coffeehouse at National Colonial Farm, 3400 Bryan Point Rd. 7pm
SA. APR. 14 - POMFRET CT, Vanilla Bean Cafe, 450 Deerfield Rd. (village center) 8pm
SU. APR. 15 - STORRS CT, Special Music Service at U.U. Fellowship, 46 Spring Hill Rd. 10:30am
SU. APR. 15 - MANCHESTER CT, Concert at UU Society East, 153 West Vernon St.7pm
NEWS & NOTES
- Join me on Tuesday March 20th, 9pm Eastern for the first night of Spring, and the "Spring is Here" vidcast. There's lots to celebrate, lots to share, and I'd love for you and a bunch of your friends anywhere in world to join us - as little as $1 ticket gets you the whole show, however long we go. Come on by http://andrewmcknight.net/vidcastfor more info, viewing tips and more.
- While you wait for the release of the new Live at Timucua video download later this month, we've posted a video of one of the songs to whet your appetite! Come enjoy "By a Craftsman's Hand" at http://youtu.be/sY5E2xQCK2c
---
Thank you for reading and sharing this E-Zine, and allowing us to send you Andrew's latest news and upcoming dates solo and with Beyond Borders. If you must unsubscribe we'll miss you, but a gentle reply will do so immediately, or simply use the link below.
Andrew is a proud Endorsing Artist for Fairbuilt Guitars and Elixir Strings, and member of Concerts in Your Home and the Standing "O" Project.