Meet Andrew McKnight & Beyond Borders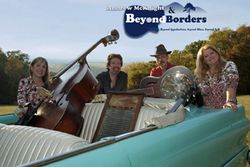 "harmony so tight you'd swear they were all related. Andrew's songs really shine, as does his amazing guitar work, from delicate fingerpicking on an acoustic, to hot swing on an electric. Arrangements go from bluegrass to country rock to jazz/blues.... 'Surveillance,' a little poke at the Patriot Act, featuring Andrew's right-on Jimmie Vaughan-style playing....Four very talented people. Very highly recommended." - Minor 7th

connect at andrewmcknight.net • 540/338-3233
---
Scroll down for biography, concert videos, and credits/career highlights.
Reviews | Print-quality Photos | Publicity Tools
Tech Requirements | Photo Gallery | Programs & Workshops
Andrew McKnight solo presskit
ABOUT: Award-winning singer/songwriter Andrew McKnight's music traverses influences from Appalachia, tasteful slide and jazzy blues, feisty anthems, rustic folk, and guitar-driven rock. Featuring founding Nitty Gritty Dirt Band member Les Thompson, Les' wife Stephanie Thompson, and Lisa Taylor, Andrew McKnight & Beyond Borders blends his charming tenor voice and acoustic and electric guitars with banjo, upright bass, drums, and percussion. The band has delighted concert and festival audiences since their collective debut at the John F. Kennedy Center in Washington (March 2008) as well as on their acclaimed 2012 CD/DVD set One Virginia Night.
Valuing the artistry of taut arrangements over flashy instrumental jams, they have earned acclaim for their exquisite 3- and 4-part vocal harmonies as well as the unusual and constantly changing combinations of instruments. Their eclectic arrangements of Andrew's award-winning songs fuse oldtime influences, roots rock sounds, rich vocal harmonies, and an assimilation of many stylistic elements that truly stretch "beyond Appalachian, beyond blues, beyond folk".
Full Band & Member Bios | Short Bio/Descriptions
Hear their 2012 live CD/bonus DVD One Virginia Night
Credits
Andrew McKnight - vocals, acoustic & electric guitars, dobro
Les Thompson - vocals, banjo, bouzouki, upright bass, accordion, acoustic guitar,
Stephanie Thompson - vocals, upright bass, acoustic guitar, percussion, bouzouki
Lisa Taylor - vocals, drums, mandolin, acoustic guitar, washboard
One Virginia Night marks Les Thompson's first full return to the stage since leaving NGDB after their double platinum classic Will the Circle Be Unbroken. OVN includes "Made by Hand", written by McKnight and Thompson with Chance McCoy (Old Crow Medicine Show), and covered by jam band faves Great American Taxi. Other highlights are the swingy "Surveillance" (also co-written with Thompson), their smoldering bluesy rework of the traditional "Worried Man Blues", the world-beat tinged "Beyond Borders" complete with Taylor's drum solo, and Stephanie Thompson's "What Kind of Person," recorded by Rani Arbo & Salamander Crossing. OVN also includes their take on Taylor's jazzy "It Means a Lot" from her True North CD, named Best in Contemporary Folk by the Washington Area Music Association.
The warmth and chemistry between these seasoned musicians has clearly caught the attention of music fans and presenters alike at some of the highest-quality venues around the mid-Atlantic region, including the State Theater, Herndon Festival, the Barter Theater, Shepherdstown Opera House, the Barns at Rose Hill, and the Mountain Aid concert at Shakori Hills NC in addition to their collective debut at the John F. Kennedy Center in Washington DC.
They have been honored by the Virginia Commission for the Arts with inclusion in the Touring Artists Directory, alongside top talents like Robin & Linda Williams, the Virginia Symphony, and luthier/master guitarist Wayne Henderson. They were also selected for prestigious juried showcases at the Folk Alliance International conference, and the Southeast and Northeast Regional Folk Alliance conferences.
Eligible Virginia presenters can apply for fee reimbursement of up to 50% through the Virginia Commission for the Arts Touring Artist program - click here for details and forms.
Select Recent Performances
John F. Kennedy Center, Washington DC
Lakefront Festival, Columbia MD
IMPACT Society Benefit Concert, Columbia MD
Black Rock Center for the Arts, Germantown MD
Hometown Holidays, Rockville MD
Mountain Aid Concert at Shakori Hills, Pittsboro NC
Barter Theatre, Abingdon VA*
Mountville Folk Festival, Aldie VA
FOCUS Concerts, Alexandria VA*
Summer Arts Festival, Blacksburg VA*
Barns at Rose Hill, Berryville VA
Valley EarthFest, Berryville VA
Bluefield College, Bluefield VA*
Harbor Festival of the Arts, Cape Charles VA*
Braddock Nights Summer Concerts, Fairfax VA*
The State Theatre, Falls Church VA
Music on the Steps, Fredericksburg VA*
Sounds of Summer at Market Square, Fredericksburg VA*
Artspace Herndon, VA*
Herndon Festival, Herndon VA
Folk Club of Reston-Herndon VA
Morven Park, Leesburg VA*
BB&T Center for Performing Arts, Luray VA*
Lincoln Theater, Marion VA*
Harris Pavilion (Center for the Arts), Manassas VA*
Catoctin Creek Distilling Co., Purcellville VA
Franklin Park Performing Arts Center, Purcellville VA
Nottoway Park, Vienna VA*
Wayne Theater, Waynesboro VA*
Chautauqua Festival, Wytheville VA*
Panhandle Earth Day Festival, Shepherdstown WV
River City Festival, Rowlesburg WV
Shepherdstown Opera House, Shepherdstown WV
* partially funded by Virginia Commission for the Arts