Hi,
The last E-Zine of 2017 means the brightness and frenzy of the holidays are upon us with vigor, and in stark contrast to the low angle of the sun, short days and long chilly nights. I firstly want to wish you and your loved ones well - may your season be filled with joy, and kindness and laughter, and the very best memories and stories of those revered elders who've gone ahead. The world seems a more bitter and angry place than ever. Whatever small and humble kindnesses we might bring to others these days seem well worth a few moments of our time.

With that, I invite you to "come over" to my place next Wednesday Dec. 13th at 9pm Eastern for my annual Winter Holiday Vidcast. It'd be a delight to share a little seasonal spirit(s) with you :) - details below and at the website. (Psst - there will be a special discount code to save even more on music during the vidcast :)

I decided to offer a contrast to the holiday shopping mania with my own little thing, #CerebralSunday - the idea of giving thoughtful, personalized gifts to loved ones and friends, created by musicians, authors, crafters and other artisans. Naturally I am offering the year's best sale on music below, but I'd like to offer you some other unique gift ideas. I could make a personalized video or mini-concert video for a special someone, offer guitar or songwriting lessons (buy 4 get one FREE) in person or video, or a gift from your own past - helping your loved one make the most of their Ancestry DNA results (save $20). And - I still have a Martin guitar for sale, ready for the stage (only one though). If you have a specific idea not offered below, are interested in bulk discounts, or have questions - email me and we'll work it out together. I greatly appreciate your support of my art, and would be honored to be part of your holiday gift-giving!

The Winter Tour kicks off in earnest right after the New Year. While there are school workshops and residencies included in the tour plans, the 3-month calendar down below only includes concerts and public shows. LOTS of special stuff, lots of tickets already selling, so if I am coming your way, I hope you'll make plans to come say hello in person. If you see an open date on my calendar in your area, I'd welcome the help in making a show happen.
---
GREAT HOLIDAY GIFTS AND SUPPORT THE ARTIST TOO!
- CDs, DVDs & DOWNLOADS: SAVE 25% - Best online sale of the year for music - save 25% both discs and downloads at the Music page (powered by the Bandcamp store). Use the code xmas17 at checkout; offer good through the end of the year.
CDs include an instant download, and discs are shipped from here - send a note if you'd like one personalized.
Email us if you want something particular as a bundled gift or multiple copies of something as a unique gift for your office or organization - we'll do quantity discounts too.
SPECIAL BONUS: Buy any 2 CDs, and we'll send you a link to download a free live concert recording, complete with the stories indexed separately and some songs unavailable on any CDs.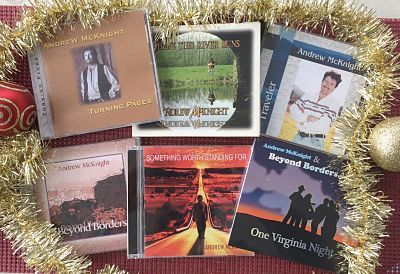 Would a complete set of CDs look good under a tree in your house?
- Giving an AncestryDNA kit this Christmas? Help your loved one squeeze the most family history out of the results! I've spent the last two years learning the details and techniques of family research using genetic genealogy with traditional family research. Let me share that knowledge with you to optimize your results and analyze your top 20 matches, plus a whole lot of tips and tricks to continue your genealogical journey. Email me by December 20th to save $20, for just $99. Comes with Gift Certificate.
- LESSONS - BUY 4 GET 1 FREE STARTER PACK. Get 5 lessons for the price of 4, either $120 for five 30-minute sessions, or $180 for five 55-minute sessions in person or via video chat, working on guitar, songwriting or other aspects of music or the arts business. It's your time to work on what you want to learn, and I gladly accept the job of helping your reach your goals. Weekly in person here in western Loudoun County VA, or we'll video conference to meet your needs. Email me by December 20th for a personalized Gift Certificate.
- CUSTOM ONE-OF-A-KIND VIDEO: Want to give the ultimate personalized gift? You pick one of my songs that would be just perfect for a special someone, and you tell me what you'd like me to say, or what story you'd like me to tell along with that, and I'll make a one-of-a-kind video in front of our family Christmas tree (or not). Or perform a short mini-concert with 3-5 of your favorite songs, specifically for them! You let me know what you'd like to do, and we'll come up with a special price to make your gift come to life. Email me by December 15th to guarantee having it in time for Christmas.
- THANK YOU NOTE CARDS; sets of my "Good things matter, no matter how small" on sale for the holidays, a set of 8 for $9 plus shipping. Email me by December 20th.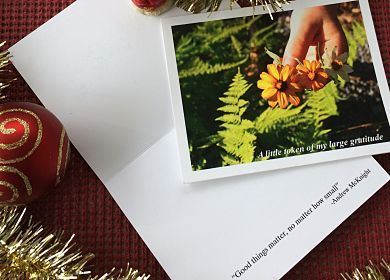 And "Thank You" seems a perfect closing to this missive! May the unexpected treasures and good things of the season linger with you long past these holidays. I hope to see you at one of these shows listed below!
THE WINTER TOUR
FR. DEC. 8 - FREDERICK MD, guitar for Tony Denikos & The Working Poor, The Blue Side, 6 South Bentz St. 9pm
WE. DEC. 13 - CONCERTWINDOW.COM, "Home for the Holidays", annual live Winter Holiday vidcast from home, http://concertwindow.com/andrewmcknight 9pm
SU. DEC. 31 - STERLING VA, Special Music Service at U.U. Congregation of Sterling, 22135 Davis Drive, Suite #105 10:30am
SA. JAN. 6 - PHILOMONT VA, Redwood Run House Concert, "A Global Journey in Songs & Strings" with Michael DeLalla, RSVP smandelgiblin@peoplepc.com 7pm
SA. JAN. 13 - FREDERICK MD, Concert at U.U. Congregation, 4880 Elmer Derr Rd. 7pm
FR. JAN. 19 - CHARLESTON SC, Hungry Monk Music, 1948 Belgrade Ave. 7:30pm
SA. JAN. 20 - NEW SMYRNA BEACH FL, Concert at Community U.U. Church, 403 West St. 7pm
SU. JAN. 21 - NEW SMYRNA BEACH FL, "The Gifts in Our Genes" Music Service at Community U.U. Church, 403 West St. 10:30am
SU. JAN. 21 - ORLANDO FL, Timucua Arts Foundation, 2000 S. Summerlin Ave. 7:30pm
TU. JAN. 23 - NICEVILLE FL, Public Library, 206 Partin Drive N. 3pm
TU. JAN. 23 - CRESTVIEW FL, Sikes Public Library, 1445 Commerce Dr. 6:30pm
WE. JAN. 24 - FT. WALTON BEACH FL, Public Library, 185 Miracle Strip Pkwy SE 6pm
TH. JAN. 25 - MARY ESTHER FL, Public Library, 100 Hollywood Blvd W 5:30pm
SA. JAN. 26 - OPEN DATE!, hoping for a concert host in southern Alabama or Mississippi
SA. JAN. 27 - TUSCALOOSA AL, Concert at UU Congregation of Tuscaloosa, 6400 New Watermelon Rd. 7pm
SU. JAN. 28 - TUSCALOOSA AL, Special Music Service at UU Congregation of Tuscaloosa, 6400 New Watermelon Rd. 10:30am
SU. FEB. 4 - GETTYSBURG PA, Special Music Service at U.U. of Gettysburg, 136 South Stratton St. 10:30am
SA. FEB. 10 - HAMILTON VA, "Songs, Stories & Gas Money" Concert, The Barns at Hamilton Station, 16804 Hamilton Station Rd. 8pm
TH. FEB. 15 - SYKESVILLE MD, Uptown Concerts at Baldwin's Station, 7618 Main St. 8pm With Tony Denikos, solo sets and together
TH. MAR. 1 - HOUSTON TX, Anderson Fair, 2007 Grant St. 8:30pm
FR. MAR. 2 - DALLAS TX, Uncle Calvin's Coffeehouse, 9555 N. Central Expy. 8pm Bill Nash opens
SA. MAR. 3 - HUNTSVILLE TX, Thoreau Woods Coffeehouse, 144 E. Mosley Ln. 7pm Brittany Shane opens
SU. MAR. 4 - HUNTSVILLE TX, Special Music Service at Thoreau Woods U.U. Church, 144 E. Mosley Ln. 10:30am
SU. MAR. 4 - OPEN DATE!, hoping for a evening concert host in Austin/San Antonio to Houston corridor
FR. MAR. 9 - FRIES VA, Fries Theatre, 213 Main St. 7pm
SA. MAR. 10 - MONTEREY VA, Highland Maple Festival Concert at Highland Center, 61 Highland Center Dr 7pm
SA. MAR. 17 - GERMANTOWN MD, Sugarloaf Coffeehouse at the Yurt, 16913 Germantown Rd. 7pm
SU. MAR. 18 - GERMANTOWN MD, Special Music Service at Sugarloaf Congregation of U.U., 16913 Germantown Rd. 10:30am
SA. MAR. 24 - ACCOKEEK MD, guitar for Tony Denikos & The Working Poor, Homegrown Coffeehouse at National Colonial Farm, 3400 Bryan Point Rd. 7pm
---
Thank you for reading and sharing this E-Zine, and allowing us to send you Andrew's latest news and upcoming dates solo and with Beyond Borders. If you must unsubscribe we'll miss you, but a gentle reply will do so immediately, or simply use the link below.
Andrew is a proud Endorsing Artist for Fairbuilt Guitars and Elixir Strings, and member of Concerts in Your Home and the Standing "O" Project.