Helping You Find, Save and Share Your Family Stories
I've learned a wealth of techniques and deep details of using DNA together with family history and records to build your genealogy. I'll help you analyze your top DNA matches, cast your net more broadly for clues, and wring the most information possible from your one test. I'd love to help you discover, preserve and share your AnceStories!
More people than ever are devoting time and energy to answering the fundamental questions, "who am I and where did I come from?" From building family trees to curiosity about deeper ethnic roots from long ago, the interest in learning our stories has never been greater.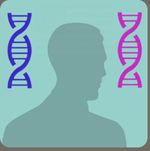 Are you one of those over 10 million Ancestry DNA testers who has a wealth of information at your fingertips and not much idea what to do next? I can help! Through my own extensive and ongoing research of my family trees, I have learned a lot of the detailed tools and techniques to coax the family stories out of those DNA matches, and I am happy to offer them to you.
While DNA offers us powerful tools to explore and discover our ancestors, it cannot simply replace the staple of any family historian's work - the research into the records, news clippings, obituaries and more that give us the details of our ancestors, their families, where they lived and what they did. I have found great joy as well as valuable information in interviewing my revered elders on video - clips that will long outlive them and someday will allow them to tell their stories directly to their great-great grandchildren and beyond.
So I can come and interview your revered elders, and put together an indexed video that you can keep and share. I can scan and examine important documents and photos, to preserve them in the cloud for sharing and safekeeping. Make a trip to the National Archives in DC to collect and preserve documents on your Civil War ancestors. Assemble a keepsake story with photos in a book. And perhaps unlike most family researchers, I can even write a story or a song about a particular family member or story.
I am a storyteller, a songwriter, and essayist with a background in science and engineering. While anyone can eventually learn to do these things, it can take a long time to do so - and I've already done it, so you don't have to.
I can do the research applying the experience and skills that I have acquired, help you place your ancestors in the context of their times, and put your family story together for you to keep and hand down. Or I can simply meet with you one time to help you develop a plan to answer burning questions about your AnceStories.
How may I help you preserve and hand down your legacy? Email me and let's save your stories! Come follow my blog at https://amckancestories.blogspot.com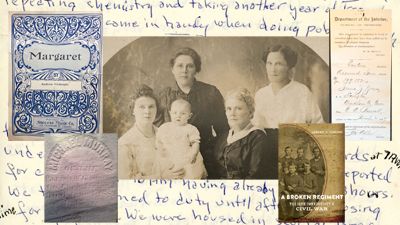 ---
I've had some pretty amazing experiences that came from researching my mom and dad's families. Here are a couple from an unforgettable trip:
"The Genes and the Gift"
"An AnceStory in Scotland"
"What a Year Can Bring"
The discovery of a previously unknown 3 times great grandfather who died following imprisonment at Andersonville, courtesy of Connecticut Public Radio! "That Story Before Appomattox"