Happy New Year! A dry and bitter cold wind is howling outside my window like a freight train, but I'm grateful for a roof overhead, heat inside and a well-stocked pantry. I'm still trying to process the year just completed (see this month's Essay below or at the Blog page), but ready or not, 2018 is rolling and soon I will be too. I wrote a song for the holidays, on the guitar gifted to me by my Irish cousin and her husband during our trip last year. In all my years of songwriting, I've never written a holiday song, so all of these firsts added up to "A Dram to the Holidays." You can enjoy it and a bunch of other new posts on the Blog at the website.
The first three months of 2018 are going to be busy with concerts, school workshops and the occasional Sunday morning music service. There are still a couple of open dates we'd love to fill (Alabama and Texas!) so if it looks like I'll be nearby then or any other time, please do get in touch and let's make something happen. And my personal wish is that Florida will again be warm by the time I get there later this month.
Meanwhile, my wish for you is a 2018 filled with joy, love, laughter and meaning. And music. If I can help you in some small way with any of those, especially that last one, then my year will be good too.
I hope to see you at a show soon!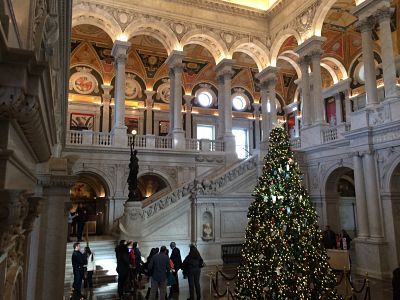 Library of Congress Jefferson Building, decked out for the holidays, nabbed during a post-Christmas visit to the Capitol.
---
JUST ONE LITTLE THING:
I share lots of stuff between E-Zines at my Facebook music page; come Like or Follow if you're willing at http://facebook.com/AndrewMcKnight.Musician/
Each month we include one small quick action you can do to help spread the word about Andrew's music. Your suggestions welcome too!
---
UPCOMING SHOWS (details http://andrewmcknight.net/tour)
SA. JAN. 6 - PHILOMONT VA, Redwood Run House Concert, "A Global Journey in Songs & Strings" with Michael DeLalla, RSVP smandelgiblin@peoplepc.com 7pm
SA. JAN. 13 - FREDERICK MD, Concert at U.U. Congregation, 4880 Elmer Derr Rd. 7pm
FR. JAN. 19 - CHARLESTON SC, Hungry Monk Music, 1948 Belgrade Ave. 7:30pm
SA. JAN. 20 - NEW SMYRNA BEACH FL, Concert at Community U.U. Church, 403 West St. 7pm
SU. JAN. 21 - NEW SMYRNA BEACH FL, "The Gifts in Our Genes" Music Service at Community U.U. Church, 403 West St. 10:30am
SU. JAN. 21 - ORLANDO FL, Timucua Arts Foundation, 2000 S Summerlin Ave. 7:30pm
TU. JAN. 23 - NICEVILLE FL, Public Library, 206 Partin Drive N. 3pm
TU. JAN. 23 - CRESTVIEW FL, Sikes Public Library, 1445 Commerce Dr. 6:30pm
WE. JAN. 24 - FT. WALTON BEACH FL, Public Library, 185 Miracle Strip Pkwy SE 6pm
TH. JAN. 25 - MARY ESTHER FL, Public Library, 100 Hollywood Blvd W 5:30pm
SA. JAN. 26 - OPEN DATE!, hoping for a concert host in southern Alabama or Mississippi
SA. JAN. 27 - TUSCALOOSA AL, Concert at UU Congregation of Tuscaloosa, 6400 New Watermelon Rd. 7pm
SU. JAN. 28 - TUSCALOOSA AL, Special Music Service at UU Congregation of Tuscaloosa, 6400 New Watermelon Rd. 10:30am
SU. FEB. 4 - GETTYSBURG PA, Special Music Service at U.U. of Gettysburg, 136 South Stratton St. 10:30am
SA. FEB. 10 - HAMILTON VA, "Songs, Stories & Gas Money" Concert, The Barns at Hamilton Station, 16804 Hamilton Station Rd. 8pm
TH. FEB. 15 - SYKESVILLE MD, Uptown Concerts at Baldwin's Station, 7618 Main St. 8pm With Tony Denikos, solo sets and together
SA. FEB. 24 - HARRISONBURG VA, House Concert at Sunny Slope Farm 6:30pm
TH. MAR. 1 - HOUSTON TX, Anderson Fair, 2007 Grant St. 8:30pm
FR. MAR. 2 - DALLAS TX, Uncle Calvin's Coffeehouse, 9555 N. Central Expy. 8pm Bill Nash opens
SA. MAR. 3 - HUNTSVILLE TX, Thoreau Woods Coffeehouse, 144 E. Mosley Ln. 7pm Brittany Shane opens
SU. MAR. 4 - HUNTSVILLE TX, Special Music Service at Thoreau Woods U.U. Church, 144 E. Mosley Ln. 10:30am
SU. MAR. 4 - OPEN DATE!, hoping for a evening concert host in Austin/San Antonio to Houston corridor
FR. MAR. 9 - FRIES VA, Fries Theatre, 213 Main St. 7pm
SA. MAR. 10 - MONTEREY VA, Highland Maple Festival Concert at Highland Center, 61 Highland Center Dr 7pm
SA. MAR. 17 - GERMANTOWN MD, Sugarloaf Coffeehouse at the Yurt, 16913 Germantown Rd. 7pm
SU. MAR. 18 - GERMANTOWN MD, Special Music Service at Sugarloaf Congregation of U.U., 16913 Germantown Rd. 10:30am
SA. MAR. 24 - ACCOKEEK MD, guitar for Tony Denikos & The Working Poor, Homegrown Coffeehouse at National Colonial Farm, 3400 Bryan Point Rd. 7pm
ESSAY: "The Paradox of 2017"
Maybe I'm finally starting to understand the real challenges of the American experiment
The annual turning of the calendar is always a good time to take stock of things. To evaluate and reminiscence about what happened, some looking forward and planning for things to come. In our "share everything" social media world nowadays, posting my thoughts on the occasion make me but one of many tens of millions.
But I have to confess, I could not have predicted this past year. A year that personally was full of high highs and amazing experiences like I've never had. And concurrent with a year when so many of my bedrock beliefs about being American are threatened in ways I've never imagined. It feels like a recurrence of some dystopian fever, where the dark energies of human nature have reasserted a hold on our American psyche. The scientist in me wonders if these times are merely another outlier data point in our colorful and tumultuous history, or if we are disintegrating into a new "normal" that feels like anything but...
[Read the rest, and previous essays at http://andrewmcknight.net/blog]
---
Thank you for reading and sharing this E-Zine, and allowing us to send you Andrew's latest news and upcoming dates solo and with Beyond Borders. If you must unsubscribe we'll miss you, but a gentle reply will do so immediately, or simply use the link below.
Andrew is a proud Endorsing Artist for Fairbuilt Guitars and Elixir Strings, and member of Concerts in Your Home and the Standing "O" Project.