Special Music Services
Andrew's "Special Music Service" is a 20-25 minute thematic presentation in place of a sermon, weaving his expertly crafted songs together with anecdotes, prose and humor to create a powerful message and uplifting experience. His service is easy to plan and present, and is available via live high quality video streaming such as Zoom. He has performed at services for Unitarian Universalist, Unity, and Congregational churches as well as Ethical Societies (see list of past hosts), often in conjunction with concert performances.
Already on the schedule? Our Planning our Service page is full of helpful information for those in charge of leading and publicizing the service.
Available Music Service Themes
Click the link for detailed descriptions and recommended readings for UU congregations.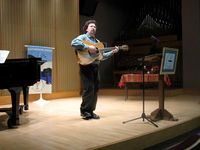 ---
Music has an unique way of reaching head and heart, and an added benefit is that attendance at well-publicized music services is often 20-30% higher than average. Andrew can also do a Prelude, a short cedar flute meditation, an instrumental for an Offertory and even a suitable piece for Story for All Ages. Your service leader and accompanist conduct the rest of your "standard" elements per usual.
A longtime Unitarian and a member of the UU Church of Loudoun (Leesburg VA), Andrew's experience makes his Special Music Services easy to present on an open pulpit Sunday. Technical requirements are minimal - "unplugged" works in small sanctuaries. 
"I can't begin to thank you enough for your music and message last Sunday! We have received so many positive—glowing—responses from our congregation, most saying that you really touched them and said things that resonated with them. The enthusiasm has been fantastic. It was so great working with you on the service—you make it so easy!"
- Suzyn Mills, 1st Unitarian Society of Marietta OH
"His presentations are musically compelling, and very spiritually moving and inspiring. Andrew's use of the Native American flute was hauntingly beautiful. His fingerstyle guitar perfectly complements his voice, bringing his down to earth Appalachian roots right into your heart. A top notch professional, he was one of the nicest and kindest people we've had the pleasure to work with, and we hope to have him back many times."
- Robin Mahonen, UU Church of St. Augustine FL
"There are some Services where all of the elements, planned and unplanned, forge together for a time of transcendence and magic. You did that yesterday. What an experience!"
- Carol Carter Walker, Senior Worship Associate, Paint Branch UU Church, Adelphi MD
"Andrew's music is contagious and insightful, as were the words he spoke as he wove all into a meaningful worship experience. I highly recommend this worship service and Andrew's music and insights for a similar experience or for a music venue or concert. The congregation was delighted and inspired."
- Rev. Jacqueline Luck, Holston Valley UU Church, Johnson City TN
"Andrew McKnight was a delight to work with planning both a service and a concert for our small congregation. He treated us as if we were the Met. His music and wit delighted the congregation and the visitors that traveled simply to see him. His service was uplifting and the concert was a blast. We hope to have him back as soon as we can."
- Geralyn St. Joseph, First Universalist Church, Pittsfield ME
"Andrew McKnight, his music and message, is a Unitarian Universalist sermon in song and rhythm. He takes you from heartfelt humanism to social justice advocacy, to foot stomping exhilaration and back again."
- Rev. Audrey Bloom, Unitarian Universalist Congregation of Miami FL
"We were absolutely delighted with your choice of material, your presentation and your relaxed and friendly manner. The songs not only entertained, but they also evoked a sense of spirit and community perfectly suited to a UU worship service. You are a delight to work with, as well."
- UU Fellowship, Chico CA
"one of the most gracious, conscientious, and giving people we have ever welcomed to our Fellowship! ...the thought-provoking and uplifting messages centered on how events in people's lives shape their reality ... and one couldn't help come away with a renewed spiritual energy ... as well as a peal of laughter or two"
- UU Fellowship of Mobile AL
"He was a hit in our congregation, which ranged in age that Sunday from 12 to 92. No sooner had he finished, I was asked to invite him back. Our minister said it was just the way a musical service should be done. Andrew is easy to work with, easy to listen to, and easy to recommend as an entertainer with a meaningful message."
- UU Fellowship of Brazos Valley, College Station TX
 
Andrew's original songs are often used in spiritual and worship services by various progressive communities of faith. He is a past Workshop Leader at the Western UU Life Festival at Georgia O'Keefe's Ghost Ranch (NM), and serves as Musician of the Week for Friends & Family Week at Ferry Beach UU Conference Center in Saco ME. Andrew and his family are members of the UU Church of Loudoun near Leesburg VA.
We often schedule Special Music Services in conjunction with a public concert, which can be excellent community outreach as well as an opportunity for your congregation to enjoy more songs and stories in a relaxed setting. Andrew's shows are like one man theatre; the songs threaded with humorous stories and poetic drama, and the musical soundscape spanning Appalachia, tasteful slide & jazzy blues, feisty anthems, rustic folk, and a little fancy flatpicking. He's been a guest on NPR's "Art of the Song" and "River City Folk" shows, and performed at the Kennedy Center and Olympic Games as well as festivals, intimate theatres, and house concerts nationwide. Please click here for his complete performance resume .
****
Were you there? Wasn't it great!
Shirley Kinney - Newsletter, UU Fellowship of the Rappahannock, White Stone VA
I'm talking about the Andrew McKnight concert UUFR-VA hosted on December 18. It was a bitter cold winter night, with slippery roads and snow falling—yet thirty-six brave souls gathered in our Fellowship Hall, hands clapping, feet keeping time with a marvelous performer.

Andrew sang, played an amazing guitar, and told stories of his life and creative process. He sings beautifully, and that alone would have been great. He plays amazingly, and that alone would have been great. He told funny touching stories, and that alone would have been great. But, all together, it was an evening to be remembered.

Your Program Committee sponsored this evening as a treat for our Fellowship, and also as a means of reaching out to the community. Both goals were well met—a third of those attending that evening were visitors to our Fellowship. And, more visitors came to Sunday service on the 19th because Andrew McKnight was performing—a service that drew fifty-five in attendance.

So, in every way, the evening was a smashing success. Consequently, the Program Committee is already planning future musical evenings in the coming year, perhaps one in the spring, one in the summer, and one around Thanksgiving. Thanks to all who helped in making this event the success it was.
See Andrew perform his song "These Shoes", about an undocumented migrant's journey