Hi,
First things first, a quick bit of important business, for staying in touch with you is one of the most vital parts of my business! We've just learned that this Listbaby email service will go dark at the end of the month. It's a huge inconvenience, and its going to add overhead costs too, but most importantly it's a challenge to overcome to stay in touch! So, if you have the inclination, hit a quick reply so we know that you're still here. After all, without the corporate sponsors and all to fund the music and the tours :), it's pretty much word of mouth that keeps the music coming, and I greatly value your mouth as well as your time to read this - thank you!
Meanwhile, there's lots of other stuff going on and keeping things busy here too - some shows this month as well as taking some time to work on some new material. Some of it goes along with some of my family history exploration, and I'm excited to share that with you musically in a vidcast on Wed. Sept. 26th, and in a new blog dedicated specifically to "Ancestories" with great tips and other content for those doing their own family research. More about all of that below.
School is underway pretty much everywhere, and I'm already booking several of my school workshops on "Telling America's Stories in Song" and Creative & Musical Writing. I'm in Florida the first full week of January with some time available, and I'd be delighted to do some workshops and concerts Monday through Friday, Jan. 7-11. Of course, there are tours to the northeast, midwest and southeast all planned during this school year too.
Speaking of school, that also means little kids near big roads and flashing red lights on yellow buses. Take good care to not run over any of the grandparents of the future.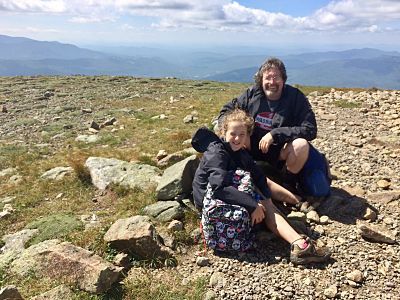 Dad and Mad snuck in a few days vacation in New Hampshire's White Mountains between shows in Maine and Massachusetts last month. A lucky day and an incredible vista in the land above the trees on Mt. Eisenhower (10 miles roundtrip hike, 3100 feet elevation, and 40mph winds at the top equals two tired happy faces at the end!)
---
JUST ONE LITTLE THING:
Please drop a quick email reply to say hello - our current E-Zine service shuts down at the end of the month and we want to be sure we are able to stay connected!
Every month we'll include one small quick action you can do to help spread the word about Andrew's music. Your suggestions welcome too!
UPCOMING SHOWS (details http://andrewmcknight.net/tour)
SA. SEP. 8 - ALEXANDRIA VA, Concerts at the Severeid House with Tony Denikos, RSVP required at http://sevareidhouseconcerts.com 7:30pm
SA. SEP. 22 - MARIETTA OH, 1st Settlement House Concerts, RSVP required suzynmills@gmail.com 7:30pm
SU. SEP. 23 - MARIETTA OH, Special Music Service at First Unitarian Universalist Society Of Marietta, 232 Third St. 11am
WE. SEP. 26 - VIDEO WEBCAST, "Autumn Arrives" on ConcertWindow.com (see below) 9pm EDT
SA. SEP. 29 - CAPON BRIDGE WV, Founder's Day Festival 11:30am
SU. OCT. 28 - HARRISONBURG VA, Spirit of the Valley Festival, On Sunny Slope Farm, 11am AMBB with Frank Solivan & Dirty Kitchen, Town Mountain & more
AMBB - Andrew McKnight & Beyond Borders
NEWS & NOTES
- Not only do we have the next video webcast "Autumn Arrives" on Wed. Sept. 26th 9pm EDT, we may have one a month through the rest of the year if everything falls into place. October's will be timed especially for the friends and fans in Europe! In November we hope to have Andrew together with his Maryland singer/songwriter compadre Tony Denikos, and if we can work the schedules out perhaps one with the full band in December, special for the holidays. The best way to stay up to date? Follow us at https://concertwindow.com/andrewmcknight of course - and get your ticket for this month's "Autumn Arrives" vidcast now for $1 or whatever it's worth to you!
- Andrew has launched a new "Ancestories" blog specifically for people getting into taking a DNA test and casually or seriously researching their family history! It will be full of simple explanations as well as tips and tricks. If you are interested, please follow at http://amckancestories.blogspot.com.
- Friends and fans around the mid-Atlantic region may have noticed that Andrew McKnight & Beyond Borders have essentially been on hiatus for the last year or so. Their bandmate, founding Nitty Gritty Dirt Band member Les Thompson has essentially been touring full time with his old friend and bandmate John McEuen, bringing their multimedia retrospective Circle Revisited Tour across North America. Meanwhile Andrew, Lisa and Stephanie will be doing a trio set at the Spirit of the Valley Festival in Harrisonburg VA next month - get caught up on all the fun at the News page!
- Wish us luck in finding a good affordable email solution for the October E-Zine (suggestions welcome). We're proud of attracting over 3,200 subscribers one at a time through signing up at shows or the website, and we don't want to lose anyone in the transition. And this E-Zine really should have a name or a title - suggestions welcome for that too!
ESSAY: "To My Daughter on the Eve of Middle School"
A dad who isn't ready to be a middle school parent struggles to find some meaningful advice for navigating the imminent awkward years.
I'll begin by saying I have no idea how this happened so fast. When we started our daily walks up our dead-end gravel road to the blacktop and the sidewalk that led us to kindergarten, it seemed like those 6 years would be an eternity. By the time the spring rolled around, I clung to each of those walks like a little kid hanging on to a teddy bear, knowing full well that we were counting down to the end of it.
I won't soon forget that last walk home on 5th grade graduation day, holding hands like we did when you were little. Or how much I appreciated that you understood then that it was a milestone - the end of one phase of life and the beginning of another. And that there was no going back....
[Previous essays at http://andrewmcknight.net/blog]