It is an icicles-on-everything day here in the Blue Ridge hills. Kids are home from school; though the main roads are only wet, our rural gravel is another matter. I've just finished playing music with my daughter and her friend. The house is cozy, there's food in the larder, and for now the bills are paid. We are blessed to have it so good, when so many lack these basics of life. I have had plenty of time to consider and contemplate my good fortunes behind the wheel these past couple of weeks, and deepen my appreciations for home too.
There's a lot to share with you this month! Three lovely shows coming up in the region, starting this Saturday here in Loudoun County, next Thursday with my dear pal Tony Denikos near Baltimore, and the following weekend in Harrisonburg VA. We have a new concert video from the Orlando show that we'll be releasing soon. I'm honored and humbled to spend some time with some young songwriters this month as part of the Chords of Courage songwriting contest in Maryland. And between a weekend in Texas and shows in western Virginia, I'll be spending four days in schools early next month in western South Carolina and our beautiful Virginia Highlands. There are a couple of new things to read at the Blog, including some thoughts and pictures from recently tracing my great-great-great grandfather's footsteps at Antietam. And thanks to my talented neighbor Christi Porter, I have a whole batch of new photographs that will start showing up soon on the website and social media. I guess I've been busy, and will continue to be! There's room to fit more events in the travel schedule though - concerts, workshops and plenty more. Please drop a line if you want to fit something in next time I am nearby.
The photo below is pretty thick with treasures. The beautiful red spruce and black walnut guitar, of course, was built for me by Martin Fair (Fairbuilt Guitars). The paintings were done by Chris M. Gray, the day before our concert in Orlando. He painted the landscape out his front window from a sunrise photo while listening to my music. And thanks to Christi, I have this moment in my living room with these treasures to share with you.
Just one small composite example of a lucky life made by many hands. Now it's back to work; here's wishing you warmth in your home, food in your belly and most of all, a little love for your heart.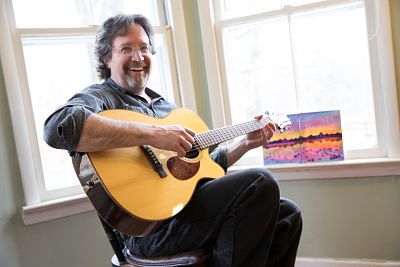 Home with two beautiful pieces of art created for me (Thanks to Christi Porter Photography)
---
JUST ONE LITTLE THING:
From the "It's Always Something" Department. We get a small amount of royalty income from ads on our YouTube videos, which YouTube is about to take away by raising their revenue-sharing threshold to 1,000 subscribers. If you're so inclined, thanks for subscribing at http://youtube.com/andrewmcknightdotnet.
Every month we'll include one small quick action you can do to help spread the word about Andrew's music. Your suggestions welcome too!
---
SA. FEB. 10 - HAMILTON VA, "Songs, Stories & Gas Money" Concert, The Barns at Hamilton Station, 16804 Hamilton Station Rd. 8pm
TH. FEB. 15 - SYKESVILLE MD, Uptown Concerts at Baldwin's Station, 7618 Main St. 8pm with Tony Denikos, solo sets and together
SA. FEB. 24 - HARRISONBURG VA, House Concert at Sunny Slope Farm 6:30pm
TH. MAR. 1 - HOUSTON TX, Anderson Fair, 2007 Grant St. 8:30pm
FR. MAR. 2 - DALLAS TX, Uncle Calvin's Coffeehouse, 9555 N. Central Expy. 8pm Bill Nash opens
SA. MAR. 3 - HUNTSVILLE TX, Thoreau Woods Coffeehouse, 144 E. Mosley Ln. 7pmBrittany Shane opens
SU. MAR. 4 - HUNTSVILLE TX, Special Music Service at Thoreau Woods U.U. Church, 144 E. Mosley Ln. 10:30am
FR. MAR. 9 - INDEPENDENCE VA, Historic 1908 Theatre, 107 E. Main St. 7pm
SA. MAR. 10 - MONTEREY VA, Highland Maple Festival Concert at Highland Center, 61 Highland Center Dr 7pm
SA. MAR. 17 - GERMANTOWN MD, Sugarloaf Coffeehouse at the Yurt, 16913 Germantown Rd. 7pm
SU. MAR. 18 - GERMANTOWN MD, Special Music Service at Sugarloaf Congregation of U.U., 16913 Germantown Rd. 10:30am
TU. MAR. 20 - VIDEO WEBCAST, ConcertWindow.com/andrewmcknight (see below) 9pm (EDT)
SA. MAR. 24 - ACCOKEEK MD, guitar for Tony Denikos & The Working Poor, Homegrown Coffeehouse at National Colonial Farm, 3400 Bryan Point Rd. 7pm
NEWS & NOTES
- Mark your calendars for the First Day of Spring AND the next Vidcast, Tuesday March 20th (9pm Eastern). For more about that, including how to optimize your viewing experience - http://andrewmcknight.net/vidcast
- Andrew will be doing a pair of FREE songwriting workshops for eligible young writers in Frederick County MD as part of the "Chords of Courage" songwriting contest, Feb. 10 and 24th, 10am to 1pm at New Spire Arts, 115 East Church Street in Frederick.
- The concert video from Andrew's Jan. 21st concert event at Timucua Arts Foundation in Orlando is in production now, and we hope to have it available for download purchase next month. The concert includes 12 songs (3 not available on any CD), plus all the stories, and Chris M. Gray doing an original large canvas painting during the show! A cornucopia of art for the senses. We'll have preorder and release info on the website in the next couple of weeks, but for now you can enjoy the trailer at the News page or at https://youtu.be/eA6YGcE5McQ.
ESSAY: "What We Leave"
3,000 miles without the radio on gives one plenty of time to ponder - the past, present and future.
One of my favorite things about the road is the stuff between the shows. The mortar of a tour that fills in around the bricks. The conversations, the view through the windshield, the moments that give one pause to reflect on coincidence or predestination.
My just completed week in Florida certainly checked all those boxes. Time with oldest friends and making new ones. Taking a day off to tour about the streets and architecture of the nation's oldest city, St. Augustine. Enjoying a little time with both the Atlantic and the Gulf lapping at my shoes (not at the same time, of course). Tracing the route of the Selma to Montgomery March. Plenty of live oak trees draped in Spanish moss. And exploring some rare native coastal plain habitats whose very existence was preserved by the needs and the footprints of the world's most powerful military. The road is also a place of paradox...
[Previous essays at http://andrewmcknight.net/blog]