Publicity Materials for House Concerts
Thanks a ton for being willing to host a show for me - I'm looking forward to it. This should have most everything you might need to help spread the word. At the bottom are a couple photos, a print-quality flyer (.pdf) and easy-to-share webcard (.jpg), perfect for social media like a Facebook event. If you aren't able to modify it for your event, please email the info as you'd like it included. For house concerts we only include the town and the contact info so people have to get in touch to make reservations - I only publish your address if you specifically request it.
1. MY WEBSITE FOR ALL MAIN LINKS - http://andrewmcknight.net
Anyone who is willing to tolerate one email a month from me can subscribe on my homepage at http://www.andrewmcknight.net and get the free 9-song Sampler Download, including songs from each of my CDs, live performances and "Made by Hand", the anti-mountaintop mining ballad I wrote with my current bandmate (and founding Nitty Gritty Dirt Band member) Les Thompson and our good friend Chance McCoy from Old Crow Medicine Show.
Social Media Links
FACEBOOK users - please "Like" and share this page - http://facebook.com/AndrewMcKnight.Musician
TWITTER  @andrewmcknight
YOUTUBE http://youtube.com/andrewmcknightdotnet
INSTAGRAM andrewmcknightmusic
2. VIDEOS TO SHARE OR EMBED (use what you prefer for your audience):
"Dancing in the Rain" (struggles of a Heartland family farmer)  - http://youtu.be/dzYyTA7Ake8
"Bad News" (jazzy blues, with intro), house concert - http://youtu.be/O_8lzK6HCdA
"These Shoes" (through the eyes of an immigrant woman) from a house concert - http://youtu.be/Qh65EJGhJ30
"Made by Hand", live on WDVX "Blue Plate Special" - http://youtu.be/ns-tPoEyvfU
"Wishing" (with Native American flute intro), house concert - http://youtu.be/HJWS1vbG5xA
"Good Things Matter", live from WUWF public TV/radio concert - http://youtu.be/qNJoP21AFWg
And here are a couple with my band Andrew McKnight & Beyond Borders from our One Virginia Night CD/DVD:
"Safe Home" - http://youtu.be/HPMkL1Rk_fA
"The Road to Appomattox" - http://youtu.be/c-fhljGAeRM
3. BRIEF ABOUT THE ARTIST
Nationally-acclaimed singer/songwriter and guitarist celebrates rural America, weaving his masterfully crafted songs, humorous stories and poetic drama into a musical soundscape sketched with shades of Appalachia, tasteful slide and jazzy blues, feisty anthems, and rustic folk.
4. BIO (use 1st paragraph or more as needed)
Since permanently leaving his corporate environmental engineering career in 1996, award-winning folk/Americana artist Andrew McKnight's musical journey has traced nearly a million miles of blue highways, and earned him a wealth of critical acclaim and enthusiastic fans for his captivating performances and seven recordings. Andrew's solo performances are powerful and entertaining one-man theatre, delivered with warmth and down-home comfort. He weaves his finely-crafted songs and nimble flatpicking together with humorous stories and poetic drama, while the musical soundscape traverses influences from Appalachia, spooky slide and jazzy blues, feisty anthems, and rustic folk. He has performed at many prestigious venues including the Kennedy Center, the International Storytelling Center and the Atlanta Olympics, has been part of the Rocky Mountain, South Florida, Boston and Delmarva Folk Festival lineups, and a guest on NPR's "Art of the Song" and "River City Folk" shows.
His 2020 album and book project Treasures in My Chest brings a dynamic new cast of spellbinding songs and stories drawn from his own recent journeys into family history. Accompanied by three guitars, a dobro, Native American flute and an African hand drum (some with their own remarkable stories), the stage comes alive with intimate detail and vibrant lyricism. From placing you in the footsteps of his doomed Civil War ancestor Aretas Culver, to finding sparks of hope in the long winter nights on the shores of mid-1800s County Down, his vision, voice and pen have created a mesmerizing sweet spot deeply familiar to anyone who's wondered, "who am I and where did I come from?"
His empathy and curiosity span a wide range of subjects, from the vulnerability of an illegal immigrant woman ("These Shoes") to his haunting Civil War ballad "The Road to Appomattox." Taking a cue from the lyrics of his award-winning song "Good Things Matter", Andrew often shares his gifts both on the road and close to home near northwestern Virginia's Blue Ridge to help "neighbors in need". Whether aiding people living on the margins with food drives at concerts, singing for and about workers and communities displaced by mountaintop removal coal mining, or introducing children to music and creativity, he has seen and harnessed the power of music to help others up close.
5. QUOTES
"With a voice reminiscent of Don McLean, McKnight traverses from old-time Appalachian tunes to contemporary folk and blues, all backed up by his dead-on guitar playing" (The Boston Globe)

"The skillful songwriter's interest in history is revealed in songs such as the Civil War ballad "The Road to Appomattox" and the soldier's elegy "Wind Whispers Your Name."...he avoids stridency by crafting vignettes told from the point of view of those in pain and keeps dourness at bay ... He also works in true folkie tradition, updating lyrics to classic material such as "Worried Man Blues" or reworking Robert Johnson's "Crossroads" to place himself mano-a-devil." (The Washington Post)

"Full of great positive energy, Andrew took the stage and immediately had the crowd riveted... a gifted story teller, Andrew did not hesitate to share some of his insights and stories with the crowd. For the second set opener, Andrew sang a gospel a cappella song as he entered the barn. With the crowd clapping along with him, I have to say it was an experience that none of us will forget.....Needless to say, everyone left inspired and grinning ear to ear. We can't wait until Andrew returns to play in the Barn again!" (Eric Behlmer, host, Barn Concerts, Gilroy CA)
 
6. WEBCARD & FLYER
This .jpg webcard is ready for you to add the concert details and share with your circles (click here to download the full version):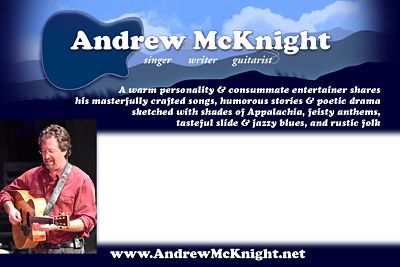 Here is a print quality house concert flyer - download as high-resolution .jpg or as .pdf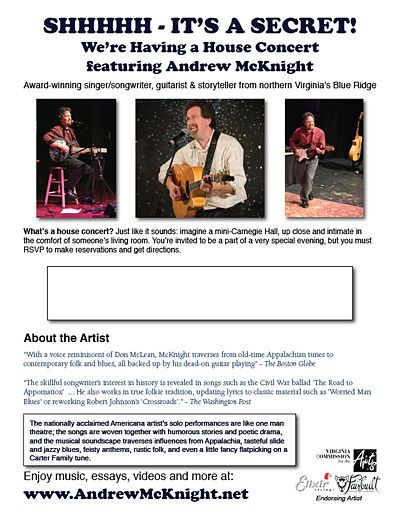 7. PHOTOS
If you have your own flyer/invite template and/or just need the photos instead of flyers, here are a couple choices.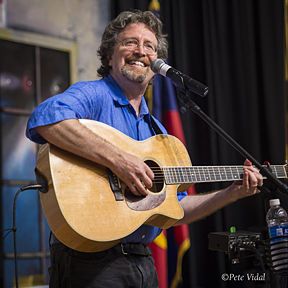 Click here to download high-resolution version of above image; photo credit ©Pete Vidal.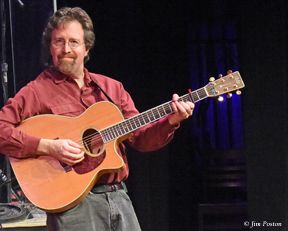 Click here to download high-resolution version of above image, photo credit ©Jim Poston.