The Album & Book Inspired by Family Stories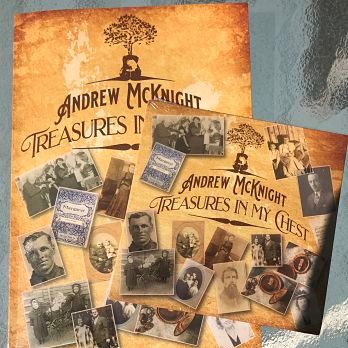 A songwriter's fantastic journey of family discovery comes alive before your ears and eyes, seamlessly blending compelling stories, helpful DIY tips, and a richness of connection and experience that standalone genealogy books can't match.
Reviews from Goodreaders:
"full of well written stories... It isn't just about the stories though, it has many layers of contemplative philosophy on the meaning of life. … I also enjoyed his projections how future generations might look back upon us…"
"The book is done in such a clever way that you really don't realize at first just how much you learn about family trees and DNA."
Download the album for $6, or get the album AND the book directly from the artist:
$13 for the album on CD (including U.S. shipping)
$13 for the e-reader version and album download
$18 for the paperback and album download (including U.S. shipping)
$25 for the paperback and CD (including U.S. shipping)
If you prefer the old fashioned send-a-check method, you can do so payable to Andrew McKnight, PO Box 81, Lincoln VA 20160.
Sadly, we can only ship within the U.S. (one book to the UK cost $25 to ship!).
About the Project
The powerful tools of modern genealogy led him to some extraordinary discoveries about music in his heritage; how his great-grandfather's American descendants had endured difficult childhoods and pursued music in many forms, largely unaware of each other. And as he explored the connections and stories in each of his parents heritage, he encountered fascinating discoveries about fortunes lost on the Titanic, ancestors falling on the battlefields of the Civil War, and impoverished immigrants braving weeks on the stormy Atlantic in the hope of a new life and a better start. Along the way he has been constantly attended by the spirit of his grandmother Madeleine Warner McKnight, who imbued him with a fascination of history as a child and was the keeper of many of the family's letters and photos.
Treasures is a defiant throwback to the days before song streaming, carefully sequenced to produce a stunning aural journey of discovery.  The core band includes longtime Beyond Borders drummer Lisa Taylor along with Andrew on acoustic, slide and electric guitars. They are ably joined by Michael Rohrer on both upright and electric bass, who brings both his Americana sensibilities together with years of experience as the principal bassist for the Loudoun Symphony. Lisa's daughter Rachel Taylor adds her brilliant cello lines on several tracks. In addition to guest appearances by past bandmate Jeff Arey (Dang Varmints!) on mandolin, Jon Carroll (Mary Chapin Carpenter) on accordion and organ, and Tony Denikos on harmony vocals, Andrew's father Warren (keyboards), sister Alyson (piano) and daughter Madeleine (fiddle) all contribute a track. Coupled with a piece written and published in 1906 by his Scottish great-grandfather Andrew McKnight, the album spans five generations of his family.
Why a book? It started as an outgrowth of a new reality; how to convey the liner notes and context of a recording with no "container" in the era of streaming and downloads. The freedom to not have to fit artwork and information in a booklet for a CD jewel box first encouraged Andrew to plan an easy to read pamphlet. It was only a handful of days after sharing that plan before the "I've always hoped you would write a book" voices grew to a chorus. Some 300 pages later, here it is in paperback and ebook, and eventually audiobook versions too.
Andrew says, "It's the culmination and coalescing of things I love doing - music, history, science, geography - all coming together to help shine light and shadow on human stories. It feels like I am meant to do this now, and that this is an opportunity to bring my work to a far larger audience than I've enjoyed for any of my previous work."
The recording was engineered and co-produced with Dustin Delage at Cabin Studios near Leesburg VA, and mastered by Bill Wolf. The beautiful cover design and artwork by Stilson Greene. The book is published through Spirit Ninja Publications.