Remembering a Lifelong Friend and Musical Soulmate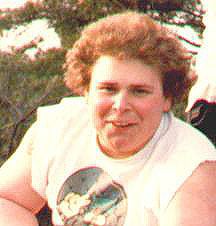 Matthew Bouley
May 23, 1964 - October 3, 2002
Matt and I played music together the first time when we were about 12 years old. Neither one of us had much idea what we were doing, but there we were in the basement of St. John's Catholic Church in Plainfield CT, noodling on "Johnny B. Goode" and Steve Miller Band's three-chord tunes in front of my Boy Scout troop. I recall him thinking that it was pretty ridiculous, but there we were doing our thing in front of our friends. Little did we know then that this was Page 1 in a story that would last almost 20 years.
Matt hung out with cooler people than me most of our high school years, but we wound up playing together in a wedding kind of band during some of our junior and senior years, sneaking off and partying before gigs and generally having a pretty grand time playing and drinking in bars we were too young to be in.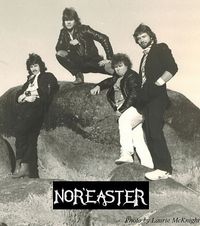 After high school Matt decided that neither college or playing weddings was his cup of tea. He was good at making food. He spent a lot of time as a short order cook in various pizza joints, but in those days it was Pizzarama, a staple of Plainfield life. And I stopped doing wedding bands and bars and started playing in long haired hard rock and roll bands and ignoring the college I was attending. In 1984, our worlds collided again as we both got into the hard rock and roll that was sweeping our generation, the "Big Bang" of what might be called heavy metal nowadays.
We started a band called Nor'easter, my first real serious effort as a songwriter. The classic power trio (guitar, bass and drums), plus vocals handled throughout the band's four-year tenure by another practically lifelong bud, Christopher Gursky. Nor'easter sprang from so many of our influences; Zeppelin, Ozzy Osbourne, Deep Purple. It was heavy, loud, and innovative, and pretty darn good. And Matt was the engine, with his double kick drums and impeccable rhythym. 
Nor'easter never made it out of eastern Connecticut; four years, three different bass players, numerous scrapes with the law at outdoor gigs, and a reputation for notoriety that lingers even now, almost 2 decades later. Nor'easter will always be one of the highlights of my musical career for the music and the deep bonds of friendship it grew from. Matt, Chris and I went into the studio in 1989 to record the album's worth of tunes that we wrote and played so well; to preserve them for our own enjoyment, as our lives were all moving in different directions. We never finished mixing them, but recorded all the tunes. Ironically, I retrieved those tapes just two weeks before Matt's death in order to mix them and remaster them, and maybe even issue a limited release. They are here awaiting my attention when my energy is ready for them.
Matt and I had one more musical go-round together, playing bars while I was in grad school with our dear old friend Darrell Sabourin in a group called After Midnight. We always knew it could only last as long as I was still in school, but we sure made the most of the shows and the musical chemistry, now finely tuned after so many years of playing together. Making our regular rounds on the eastern Connecticut small bar band circuit, After Midnight honored both the sound and the spirit of the music that Matt so loved; The Allmans, the Stones, ZZ Top, Clapton, Hendrix. All those great rock and roll songs that they now call "classic rock".
And as we all knew it would, that ride ended in 1992 when I finished grad school. I got married and moved to Virginia, and started writing a whole different genre of songs that started this crazy life in music I've been living. Matt and Darrell made the trip down in 1995 to be the band for my first CD Traveler. You can hear them on 5 tunes.
Matt and I always had a special musical bond. If you're lucky as a musician, you get to experience that soul to soul connection with a handful of people in your life. We were that way since we were kids. Matt was my clock and my compass. Never tolerant of badly played notes or chords, he'd howl until you got the right thing under your fingers or in your voice. He was immensely talented musically, far more gifted than he ever could credit himself. He was peculiarly adept at singing and playing the drums simultaneously. We always knew where the other was going as those improvised moments occurred, often without even realizing it. One lock of the eyes, a musical moment, and a shared grin of satisfaction. I will remember that look for the rest of my life.
While I didn't recognize what it was while it was happening, I realize now that I felt that bond breaking as he struggled to live and finally passed last week. I feel as though I have lost my left arm and half of my lungs. I am sure he will help me get my rhythm back, as intolerant as he was of sloppy playing on my part, he certainly won't allow it now. But as for my friend, that is another matter.
He is gone far too early and tragically, like so many of our rock and roll heroes. The funeral was the hardest day of my life, as I know it was for Chris, Darrell, and the long list of our friends and musical colleagues. Our families remain intertwined, as they have been for 40 plus years through friendships with parents and siblings. There are many gifts and many great memories, and so many laughs. And there is the music, the master recording of Nor'easter's unreleased CD, Calm Before the Storm. That music will be available for any and all to hear, sometime in the future when I have the time to do the job to Matt's high standards. There are many tapes of After Midnight shows, and there is Traveler. In addition to this undersized but important musical legacy, he leaves behind two beautiful and special kids in Simone and Alex. I hope I get to know them better and that someday when they want to know more about their dad, perhaps I can share a few special stories with them. He leaves behind literally thousands of lives made brighter by his light and his laughter.
Rest in peace, old friend.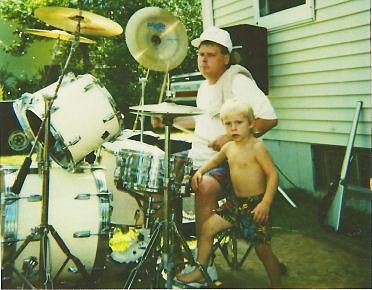 Matt with his son Alex getting started on the drums.