Bringing The Music Home: Hosting a House Concert is Easy
House concerts make up a good percentage of my concert schedule, particularly in areas of the country I don't tour frequently. Many of these folks do this as a special event when I come to town, for others it is a regular monthly occurrence. I am lucky and grateful to derive a significant portion of my livelihood spending an evening in someone's home meeting wonderful and interesting people and sharing in a special experience!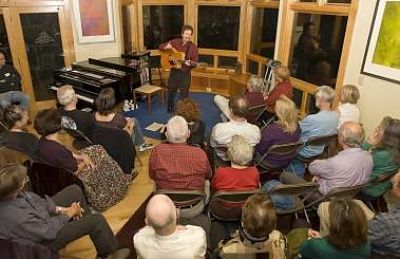 If the idea of having an intimate performance in your home to share with 25 to 75 like-minded music fans appeals to you, then please consider becoming yet another vital link in the web that supports this spiritually rich but financially marginal vocation of mine alive! (And if you think a dozen people on a weeknight more to your style, check out our "Songs in the Parlor" concept.) House concerts are often underwritten all or in part by the host or sponsor(s) in combination with admission donations from attendees. Like most aspects of house concerts, there is no "standard" - almost everything is flexible to some degree.
House concerts work best for solo artists or small acoustic combos - jazz, folk, and classical music in particular are genres well suited for creating a miniature Carnegie Hall in your living room. You get the beautiful nuances of voices and strings, up close and personal.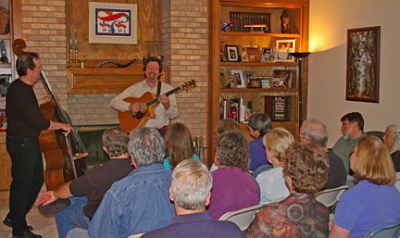 Presenting a house concert is pretty easy! Once we arrange a date, the rest falls into place simply. You need to figure how many people you can comfortably fit, where you can procure sufficient seating (borrowing a few folding chairs from your church is common), and get emails, flyers or postcards out to interested friends, coworkers, and/or folks at other local folk/acoustic venues. Some people offer to host and let a friend take care of all the logistics - the division of labor makes it even easier.
For your comfort and security, we only post contact info (and not your address) on the website calendar and social media, so that folks will have to contact you to make reservations, and so you can keep track of everyone who is coming to your home.
There are several ways that I can be compensated for the evening - this is an important part of my salary. Typically we request/require a suggested per person admission donation, depending on your "market" and your own comfort level. 30 people at a $20 average donation per person is a decent night for me, and usually there are CD/DVD and merchandise sales on top of that (though that's not the same as salary, as the artist invests significant money in creating that merchandise). Sometimes a host prefers to pay me a set fee we set together in advance so that they can invite guests freely.
At a Glance - Keys to Success
Get an audience interested in advance and in the seats at the show. We have some great flyers and handouts to help make that easy, or you can make and send your own invitations by postcard, Evite, email lists, etc. Make sure they know if there is a requested admission donation. 
Plan ahead for details like parking, house and bathroom access, seating, refreshments, and admission donation collection
Provide an attractive performance and listening setting; the right lighting and ambiance can bring the warmth and magic of Carnegie Hall to your living room
Make sure in addition to being a good host you can enjoy the show yourself, instead of running around like a maniac tending to details while everyone else is enjoying the show!
The night of the show, you may want to have some refreshments ready or specify Bring-your-Own if you prefer. Welcome your guests as they come in and point their way to the admission donation jar and refreshments. Consider introducing the artist and letting your audience know that it is a listening performance ("cell phones on stun, please"). Allow for socializing before and after the show and on the intermission, and perhaps encourage them to check out the CDs.
Then at the end of the night, folks thank you for a wonderful time, ask you'll be doing it again(!) and say good night. A few minutes of tidying up and rearranging the furniture and voila, back to your own house!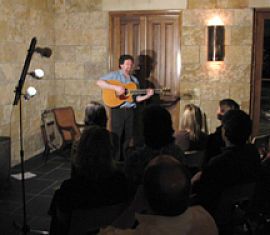 If you or someone you know might be interested in presenting a house concert, please email us or call 540/338-3233. You can check particular available tour dates we are trying to fill in most areas of the U.S.
I am very grateful to those folks who decide to present these intimate concerts within the comforts of their home. We can arrange anything from a formal concert to a "pot luck" style gathering followed by a performance. Andrew is also a member of the juried Concerts in Your Home network of house concert presenters and artists.
So thanks in advance for helping out - we'll have fun! (To find house concerts to attend and support in your area, visit www.houseconcerts.com).
Andrew performs "One More Year (A Farmer's Prayer)" at the Concerts in the Cabin house concert series in Evansville IN (Video by Art Woodard)