Last week I actually left my pod and went out into "the real world." Two weeks after Shot 2 was Tuesday, and by Wednesday night I was 450 miles away at my parents house, the house I grew up in. Besides visiting beloved family including my 99-year old aunt, I saw old dear friends in person (the best Zoom meeting I've had, without the computer or the zoom), visit another friend's period instrument luthier and repair shop (WOW!), and yes, play music with other people.
My Dad, my longtime friend and bandmate Darrell and me - in the same room. Plugged in. So. much. energy. It poured out of our fingers through those instruments. A year's worth of pandemic heartache and loss purged into an indescribable delight - the pain and soul of blues, the heartache of country, the rich complexity of jazz, and plenty of spontaneous creativity too. The most epic emotional release.
I am slowly doing things that we did in the Old World.  We went camping on the tidal Potomac with dear old friends for a few days the weekend before. I watched the sky, and the clouds dancing on the ebb and flow of the great wide river, and for a little while, it was like waking from the worst Rip van Winkle dream and realizing that everything still works, sort of. 
It's too much to describe. We have missed so much. We still don't know what the New World will be like, but it feels to me like the photo I captured while camping; "The great storm passes…" 
I apologize now if the hug next time we meet feels inappropriately long. I'll never take them for granted. I feel like we've been on our own island for so long - plenty to eat, safely sheltered and with each other, but physically isolated.
I. am. so. very. grateful. For everything. To my girls for sending me off and taking care of each other for a few days (they were probably glad to have me out of the way for a little while 😘). To my parents for putting up with me. To my family and friends who welcomed me with open arms. 
I'm sure as hell not wasting my shot. May you too know this place. I really look forward to seeing you - in living 3D.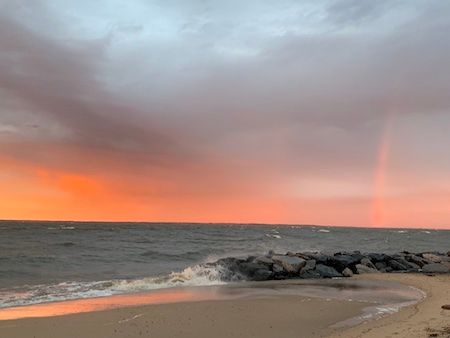 Rainbow at sunset, Westmoreland State Park, Montross VA.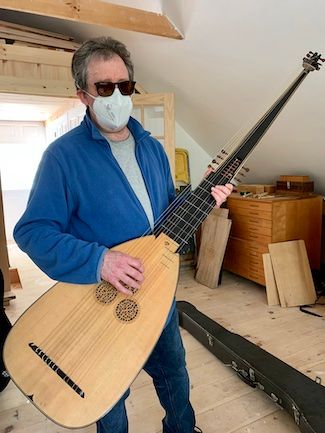 One of luthier Timothy Johnson's repair projects - it's a theorbo or chitaronne. And a conversation piece ;).