Andrew joins forces with guitarist, composer, author and clinician Michael DeLalla for concerts and workshops in the Rocky Mountain region and mid-Atlantic states.
"A Global Journey in Songs & Strings" Concert
Like one-man theatre from the days of Chautauqua, award-winning singer/songwriter Andrew McKnight crafts his stories into a musical soundscape that traverses such varied influences as Appalachia, tasteful slide and jazzy blues, feisty anthems, rustic folk, American flute and African drum, and even a little fancy flatpicking on a Carter Family tune. Virtuoso Michael DeLalla's fingerstyle guitar journey, featuring his original compositions and arrangements of traditional tunes gathered worldwide, weaves a narrative of his travels and travails found in his varied musical habitats, from a capella kan e diskan in Breton Gaelic to evocations of Japanese koto music. On stage together, Andrew and Michael's stellar guitar work, well-crafted songs, and anecdotes both humorous and poignant weave a magical experience that pays homage to the history, tradition and power that informs their music.
"Thriving in the Arts Business: Building a Solid Foundation in Shifting Sands" - Workshop and Seminar for Artists and Small Business
The diversity of hats that each artist wears is almost dizzying; composing and recording music for stage and film, performing in a variety of settings, teaching, and writing articles and books. While many other workshops focus on much-discussed tools like social media, Andrew and Michael deliver an engaging presentation on a bigger picture; how those tools serve the building of a sustainable community, focused on the patron experience and developing longterm connections. An invaluable workshop for performing artists, students, presenters and businesses supporting the arts.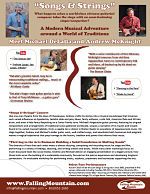 Click image to download print-quality .pdf with video hyperlinks
About the Artists/Clinicians
Since permanently leaving his corporate environmental engineering career in 1996, award-winning Americana artist Andrew McKnight's musical journey has traced nearly a million miles of blue highways, and earned him a wealth of critical acclaim and enthusiastic fans for his captivating performances and seven recordings. While he primarily tours solo, he also occasionally performs with founding Nitty Gritty Dirt Band member Les Thompson around his home near northern Virginia's Blue Ridge. His music is heard on hundreds of broadcast and internet radio shows, and he's been a guest on the NPR/PRI's Art of the Song and River City Folk shows. He enjoys artist endorsements with Fairbuilt Guitars and Elixir Strings, and is on the Virginia Commission for the Arts Touring Artist program.
(Look & Listen: "Dancing in the Rain")
For more than 30 years guitarist/composer Michael DeLalla has been serving up a delicious brew of solo guitar music, steeped with his classical training and seasoned with his jazz, Celtic and folk stylings. His fluency on classical, 12-string, and steel-string acoustic guitar showcases gifted improvisation and dazzling technical facility that never sacrifices the richness and poignancy of his compositions, from his early days with Rounder/Philo improvisatory ensemble Oxymora to his landmark latest solo release, This Is How I Disappear. Michael's comprehensive new book The Mindful Guitarist is quickly becoming an essential companion for guitar enthusiasts at every level.
(Look & Listen:  "Infinite Loops; See Loops, Infinite")