Congratulations to our pal Chance McCoy and the Old Crow Medicine Show for winning the 2014 Grammy Award for Best Folk Album with Remedy. Chance has been playing guitar and fiddle with Old Crow since 2012 and been part of their most successful years to date. Remedy is his first Old Crow CD, joining the band in 2012 in time for the tour to support their Carry Me Back CD.
Chance was an integral part of the band when we made Something Worth Standing For, performing at the 2008 release concerts at the Kennedy Center as well as the inaugural concert at our hometown Franklin Park Arts Center (see photos below). Among the highlights; check out the classical-sounding string quartet in the 2nd verse of "Times We're Living In", the sultry swing of his fiddle break in "Surveillance" and the hypnotic Cajun-goes-rock motif on the title cut, the playful banjo groove to the traditional tune "The Fox", and of course the brilliant cascading crosspicked mandolin on "These Shoes". (Hear the whole CD below)
In 2009 Andrew, Chance and current Beyond Borders bandmate and founding Nitty Gritty Dirt Band member Les Thompson teamed up to write and record "Made by Hand", a tribute to the coal mining communities of southern West Virginia, eastern Kentucky and southwest Virginia that have been devastated by the impacts of mountaintop removal coal mining. The song appears on the CD Still Moving Mountains: The Journey Home which also features Kathy Mattea, Blue Highway, and the Del McCoury Band. In addition to Andrew's versions solo and with Beyond Borders, popular jamband Great American Taxi have performed the song over the past few years, including around the world on the syndicated Woodsongs Old-Time Radio Hour. (Hear the song below, including Chance's outro fiddle tag not heard anywhere else!)
While some might raise an eyebrow at calling Old Crow's music "folk" at least in a traditional sense, Chance's roots are deep in the old time Appalachian traditions. He recorded a brilliant album of traditional music primarily from West Virginia and Kentucky at Les' Cabin Studios. Featuring 19 tracks recorded live with no overdubs, his fiery fiddling and singing leads a crack band - Danny Knicely (guitar), Adam Hurt (banjo), Ralph Gordon (bass), Mark Hellenberg (banjo ukelele), and vocals from Aimee Curl. You can download the Chance McCoy and the Appalachian String Band CD for free at NoiseTrade.com.
Congrats Chance - an honor well-deserved for a lot of hard work and a great recording!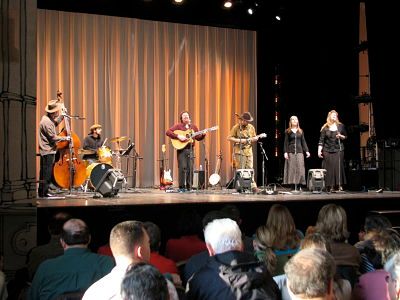 Onstage at the Kennedy Center, March 2008 (From L - Les Thompson, Jesse Shultzaberger, Andrew McKnight, Chance McCoy, Stephanie Thompson, Lisa Taylor)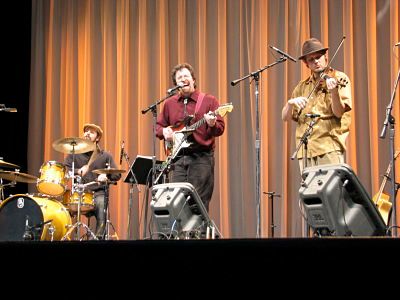 Performing "Something Worth Standing For" at the Kennedy Center
Performing "Wildwood Flower/The Old Hundred Road" at the CD release concert at Franklin Park Arts Center (From L - Les Thompson, Andrew, Chance). Pick out the one of this trio who HASN'T won a Grammy!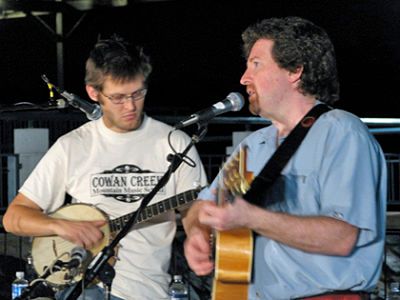 Chance McCoy and Andrew McKnight at 2007 Columbia Lakefront concert series.