I met a version of 15-year old me on vacation last week. 
When I hit that age in 1979, music was everything to me. School was an opportunity to be with my friends and talk about music. That summer before my sophomore year, my "playlist" included some of the following acquisitions from the record bins - Van Halen II, Reggatta de Blanc by The Police, and Pink Floyd's The Wall for sure. I know I was still deeply absorbed into Steely Dan's Aja and the bootleg of the Beatles live show at a club in Hamburg Germany. 
and jazz-fusion violinist Jean-Luc Ponty's A Taste for Passion. I'm not sure how I stumbled into it - I must have heard something and thought it was really cool, but the long haired dude with the blue electric violin on the cover might have been intriguing too. What I distinctly remember is coming home, sitting on my bed with the headphones on, and being absolutely blown away by the dreamscape of "Stay With Me", the opening track. It was an altered state of consciousness all unto itself - beautiful, mesmerizing, elegant. 
Within two weeks I knew every track on that album inside out, and it wasn't long before my friends starting turning on to Ponty too. The grooving "Sunset Drive" and its opening electric bass solo became a staple jam with friends for many years. Ponty's albums opened up a different world, rock meeting jazz meeting soundscapes. When I started driving, it wasn't long before I was tooling the 90 miles of freeway to see my pal and future Nor'easter singer Chris Gursky, and making treks with a couple of local friends (usually David Tarrant) up to hike the White Mountains of New Hampshire. Sometimes it was to the nearby wilds of East Beach on the Rhode Island coast. Wherever I went, Ponty cassettes were part of the soundtrack. 
Of course, over a journey from 15 to where I'm at now, lots of things faded into memory supplanted by new music, new experiences, new memories. I've lived more than half my life close to the beautiful and seemingly endless Appalachian folds and ridge lines. I've been married a long time and a parent for most of that, traveled to all manner of scenic places and been rich with a ton of music made by friends as well as musicians I admire. And I've been blessed with a life making music, and there's no way that creativity can't be informed heavily by all the different music I absorbed in my youth. 
Last week came another birthday, considerably advanced now beyond 15, but accompanied by my now 15-year old kid. We planned a celebratory trip to the White Mountains to camp, hike and bike with family and a couple of those very same dear friends from my 15s. My wife joined us later in the week when we spent a couple days with my parents in the musical home I grew up in. 
My teenager is also a fiddler, whose musical understanding seems to be growing by leaps and bounds lately. She has her go-to artists and musics too - modern rock, hip-hop, R&B - but she loves Irish music for the prominent role of the fiddle. At some point when she was maybe 7 or 8, I let her have my old iPhone to use as a camera, music player and wifi device. I never bothered to wipe out my music playlists, some of which rocked pretty hard. 
Somehow she has managed to tote that digital album rack along with her to her current phone, and on the way developed a fondness for a diverse bunch of rock and soul from the 70s. From Steely Dan and Skynyrd to Stevie Wonder and Earth, Wind & Fire, my teenager has absorbed a whole lot of music from my teenage years. 
Lately when we've been traveling she wants to play DJ for me, so she commandeers the van stereo and serves up a bunch of music that we both love, even while turning me onto new things. A few weeks ago, I decided she might be intrigued by that dude with the blue violin. 
On the ride up to New England, my DJ surprised me with her new Ponty collection, leading with "Stay With Me". We shared an experience that I've shared with the dearest of friends when I was her age, stepping into my own musical world. And now we rocked our way into the White Mountains together, my 15-year old, and that 15-year old me too. A new old soundtrack to a memory that neither of us will soon forget. And of which my no-longer-15-year-old friends heartily approve as well. 
French jazz-rock violinist Jean-Luc Ponty in a short set at the Saban Theater in Beverly Hills, 2017. Treat yourself to a listen!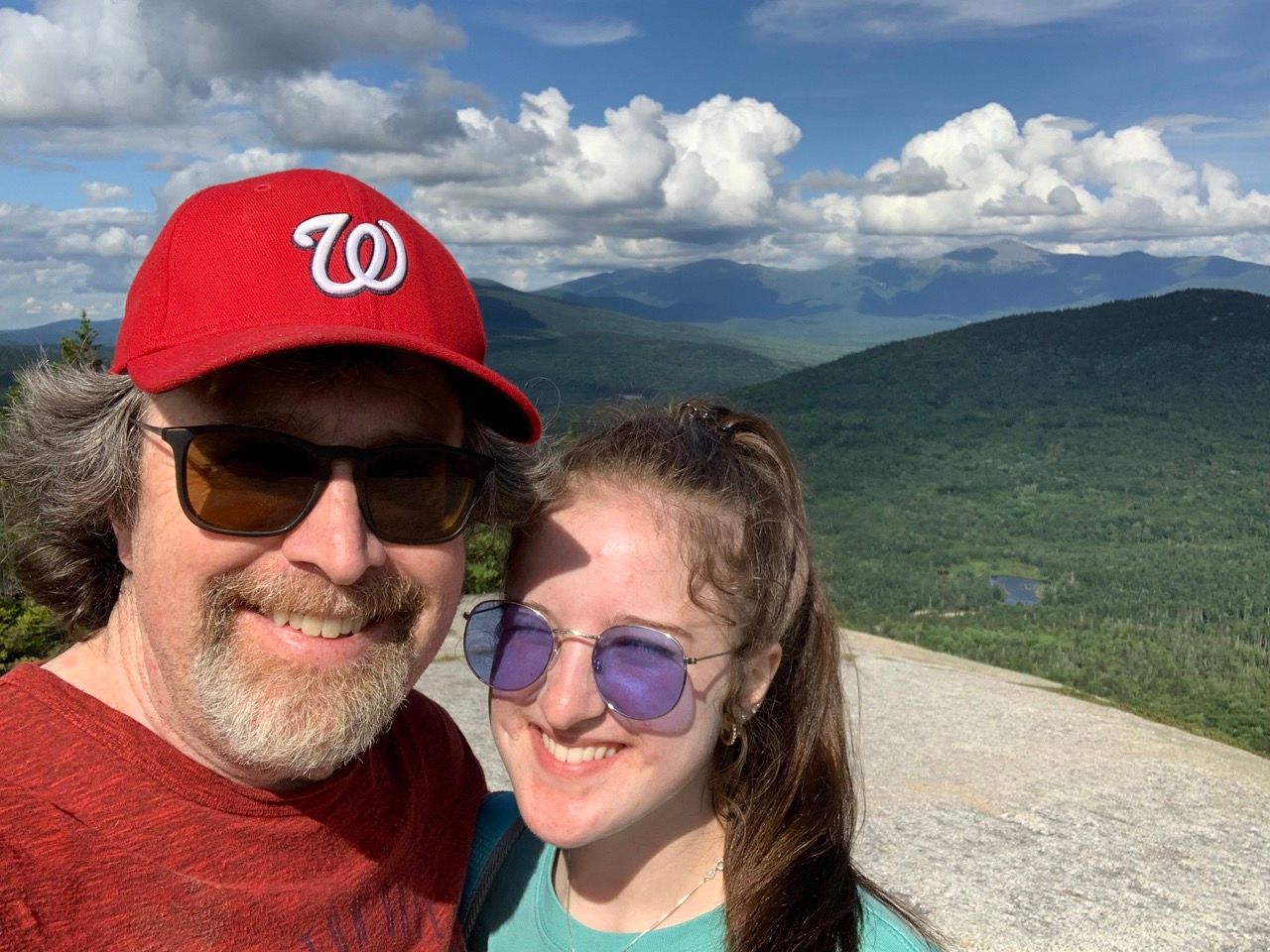 The author and the family fiddler atop Middle Sugarloaf in New Hampshire's White Mountains. Mt. Washington is the high point on the distant ridge to the right.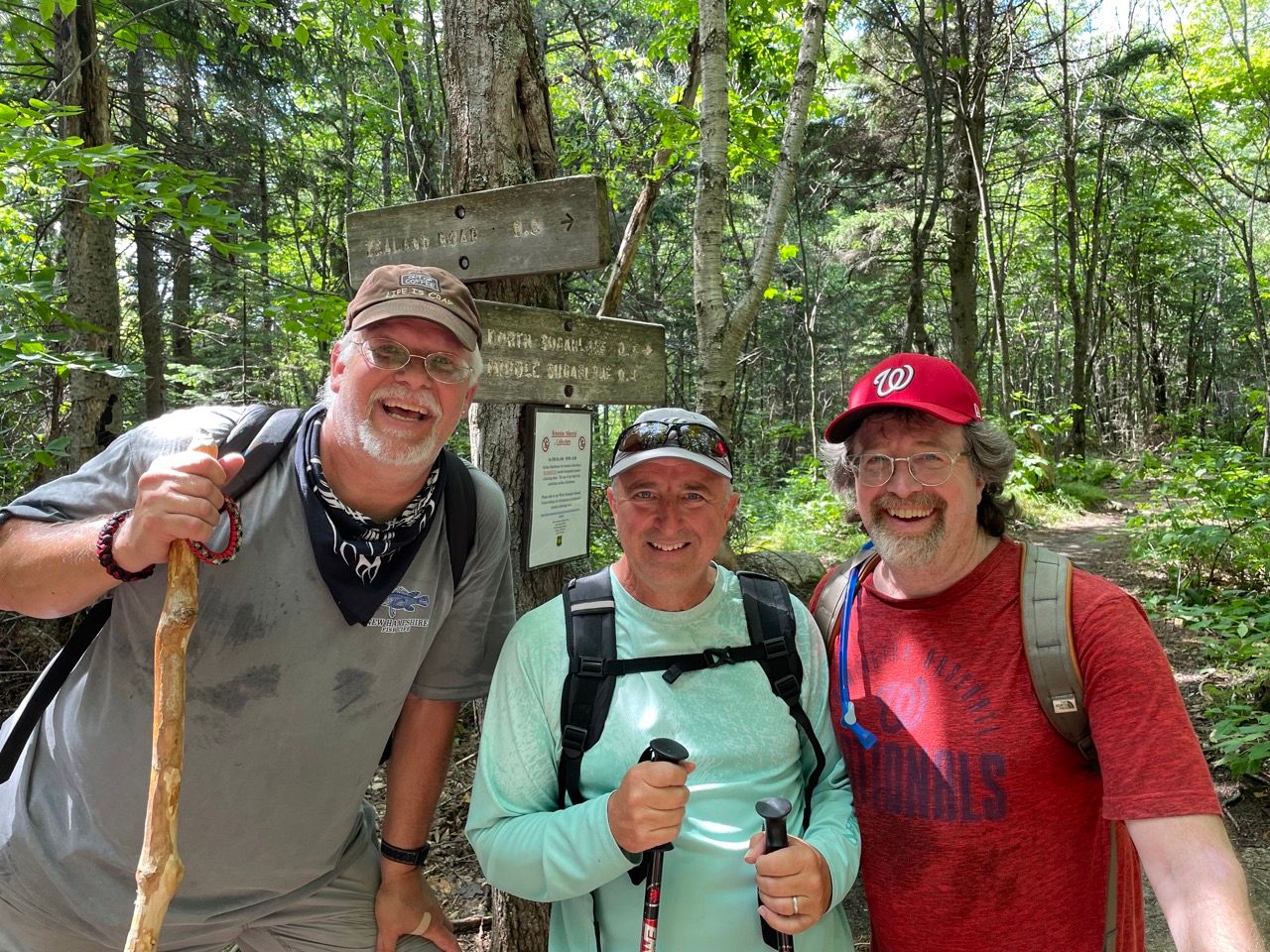 Three old friends who've climbed some mountains together since their teenage years!