June 21, 2017. The connection between my electric guitar and one of my favorite fruits
Music has always been in my house. I suppose it was inevitable that I would play guitar, and probably the only reason I didn't start until I was eleven or so was that Dad's classical was impossible to play, and his Supro Belmont electric only slightly less so. It took that long to be willing to put my fingers through it! But I wanted "into the club", and guitar was going to be my ticket, so I endured the seemingly six-inch high string action on the Belmont and tried to play barre chords.
By the time I was fourteen, I was craving a Fender Stratocaster electric guitar. I knew people who played them including Pete Haselbacher, the guitarist in my dad's band. He was kind enough to let me noodle about on it a bit every now and then. My dad told me if I wanted one, I'd have to get a job and earn the money (and he was right, we sure didn't have a little pile laying around doing nothing). 
You couldn't get any other kind of job until you turned sixteen, but you could work on a farm at age fourteen. Down the hill from us Westview Orchards had strawberry fields, and they hired kids seasonally to weed their fields at a whopping $2.75 an hour. My neighbor was a couple years older than me, and he had worked his way up to being in charge of the temp workers, so on the bus ride home from school one day I begged him to help me get a job.
The money didn't pile up quickly. I got to work after school like 8 or 10 hours a week, and there were taxes taken out, and it was really hot in the fields - and LOTS of weeds. No weed mat or heaped rows like my "cutting-edge" neighbors smartly use now. Most kids didn't last very long before they quit or got fired. Like many teenagers probably would under such circumstances, I despaired of ever having the $300 to $500 a new Strat would cost me.
When I saw the ad in the paper for this used 1976 Strat in mint condition for only $275, I about hollered at the top of my lungs! This was closer than I'd ever gotten; I had saved almost $200. I showed my dad, ready to beg and plead to borrow the money somehow. Much to my surprise, he offered to loan me $75. It was the end of May, and there would be another two weeks worth of weeding and I might manage to make it back. Which was the only expected outcome, on his part.
So I had $258 and some change in my pocket when we drove to Norwich to meet Tom Perrone, this young guy who worked at a local music store and had too many guitars. He seemed happy to take the cash money ("keep the change") and send his Strat home with a kid who was so excited to have it. Little did he know.
My Strat has been such a huge part of my life. My junior year of high school when we somehow managed to win the Battle of the Bands against the big heavy rock band, because our friends mobbed the stage when we played The Beatles "I Saw Her Standing There". Countless weddings and pickup bars long before I was old enough to be there. The night the Harley dude rode his bike ride up to the bar while we were setting up. Nor'easter - my first original project - and the infamous night that 12 state and town cop cars showed up to break up the party at Moosup Pond. 
I wore out the original neck. Rusted out the original bridge and tailpiece with sweat. Playing that guitar paid for college and graduate school for engineering. My first CD. My latest CD. The next one to come. Some of the biggest moments of my life, and of the biggest milestones of my crazy life in music.
My daughter's birthday comes at the beginning of strawberry season here in Virginia. I love strawberries, unashamedly, and even before she knew the date of her birthday she knew it was during strawberry time. Our neighbors the Wegmeyers grow some of the best in the land, and for me I fear it's a bit like an addict living down the street from a crack house. I'd eat so many I could make myself sick, and start all over again as soon as I feel better. And spend a lot of money doing it. But, fresh strawberries.....
We go visit a couple times each season, including usually once for some strawberry-themed birthday concoction. Last weekend they graciously donated a bucket of strawberries for our upcoming Mountville Folk Festival. 
As we worked our way through the rows, I had a flashback of that fourteen year old boy, pulling weeds and dreaming of a Fender Strat. If only he had known all the crazy places that guitar would take him!
Author's note: After writing this, on a whim, I looked up Tom Perrone on Facebook and sure enough he's still playing and teaching in CT, with a lovely Stratocaster in hand!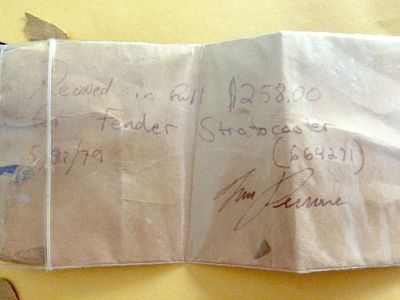 My dad thought to save the receipt, thinking I might write a blog post about it as a middle-aged man someday.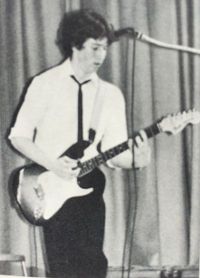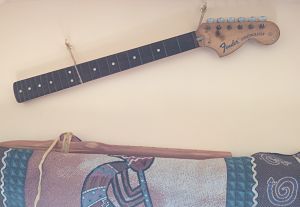 A kid and his guitar in the high school talent show, and the worn-out original neck that hangs as artwork in the office today.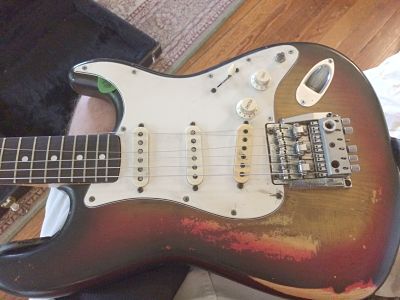 I fell for these curves the instant I saw them, and still fall in love every time I pick it up.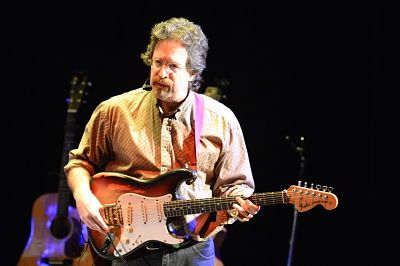 A moment caught under the lights (Photo © Jim Poston)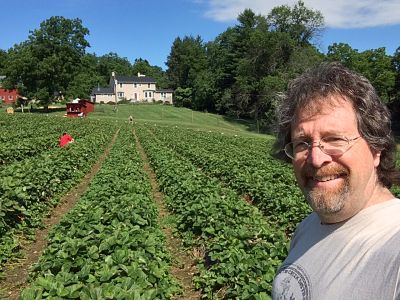 A journey of reminiscence in the strawberry fields down the gravel road from our home.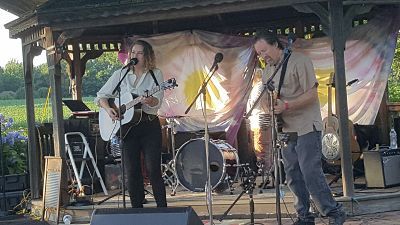 Aiming for the silkiest and sweetest tones and notes to accompany Kirsten Maxwell's amazing voice, 2017 Mountville Folk Festival (photo courtesy of the also amazing Shawna Caspi)