American History & Geography Themed Programs
Andrew has developed several musical programs that draw on his extensive travels across America as well as his fascination with her history, fueled by its many chapters and stories lying thick on the ground around his northern Virginia home. These are particularly well-suited to hourlong library presentations as well as school programs.
School programs may include pre- and post-workshop activities to deepen the learning experience, including vocabulary, musical concepts, and key concepts and events from American history and geography, as well as some listening exercises.
This Crazy Patchwork Quilt Called America (elementary school to adult, from 20 to 60 minutes) Andrew offers his alternative to the "Melting Pot Myth" in story, song and anecdote, with insights into people and places unique and regionally distinctive. The full program often includes his popular anthem about a Virginia farmboy caught up in the Civil War, "The Road to Appomattox".
Telling America's Stories in Song (elementary school, 20-30 minute blocks with full school or grade concert at end of day) Andrew uses both traditional folk and original songs on several different instruments to highlight important age-appropriate elements from American history and geography. His teaching points include how the development of image and sound recording influences our perception of historic events. Depending on the grade level, he may draw on classic songs from specific cultural influences, like the African-American spiritual, the native American courting flute, and the Appalachian ballad.
I Live in Amazing Times (elementary school to adult, from 20 to 60 minutes) Andrew examines the rapid pace of progress with music and humor. Much as Woody Guthrie chronicled the Depression and Dust Bowl, and Bob Dylan the social upheavals of the 60s and Vietnam, Andrew finds himself witness to yet another societal sea change brought about by the wonders, and curses, of technology.
Virginia History Year (tailored to the standardized 4th-grade curriculum for all Virginia students learning the story of the Old Dominion) Andrew brings characters and times to life in fresh and contemporary ways, as well as drawing on musical influences from the appropriate places and periods.
Programs can be bundled into single or multi-day residencies for all range of school ages as well as for adult audiences. All programs involve engaging activities and participation, including bundling into a creative writing workshop/exercise.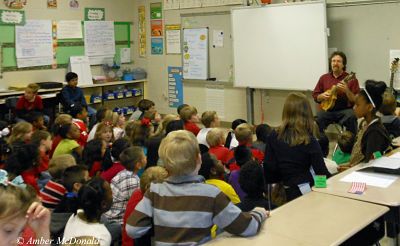 Andrew's concert concludes a day of workshops with 2nd graders at West View Elementary School, Spartanburg SC.