In February Andrew spent a couple of mornings leading workshops for aspiring middle and high school songwriters in Frederick County, Maryland as part of the STEP UP Frederick! Student Songwriting Contest sponsored by Chords of Courage.
Imagine his delight to find out that one of the attendees was the Grand Prize Winner at the April 6th awards concert at the Frederick Community College theatre! This article from the Frederick News-Post features Vivien Renkey, one of the students from the workshop, and her song "Land of the Free" about Harriet Tubman won 1st place in the Middle School division. 
Chords of Courage, founded by Caron Dale, uses songwriting to shine a spotlight on the courageous among us, telling their compelling stories in an effort to transform the conversation from the demoralizing and cynical to the hopeful and inspirational one song at a time. These incredible stories inspire young and old alike to STEP UP! and make a difference in the world around us.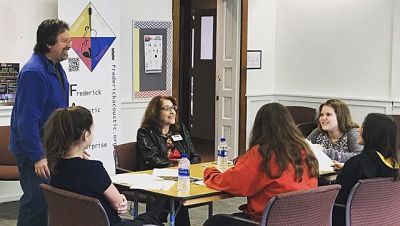 Andrew working with some talented and passionate young songwriters at a workshop session at New Spire Arts, Frederick MD.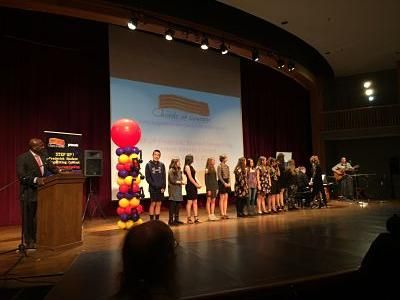 The middle and high school winners of the Step Up! Songwriting Contest at the Awards Concert, April 6, 2018 along with host Derek McGinty (L), Chords of Courage founder Caron Dale, and the F.A.M.E. house band.