Andrew has long wanted a Fairbuilt Guitar handmade by local luthier Martin Fair. After a couple years of bouncing ideas around, in early winter 2012, Marty decided to design and build several identical guitars to Andrew's dimensions with slight variations in the wood, and per Andrew's wish to use local wood as much as possible.
And now, what a great start to 2015 - Andrew's brand new guitar is in hand and ready for the road! Per Andrew's wishes, the OM cutaway model features all native woods - a West Virginia highland red spruce top; black walnut back, sides, and neck; and a locust fingerboard and bridge - along with an LR Baggs Anthem pickup and preamp. Andrew is proud to be Fairbuilt's first Endorsing Artist and excited to share Martin Fair's fine craftsmanship and the "sound of home" with concert audiences on the road. For those who've been following the project, Andrew chose the guitar in a "blind" studio comparison playing all 6 of the instruments.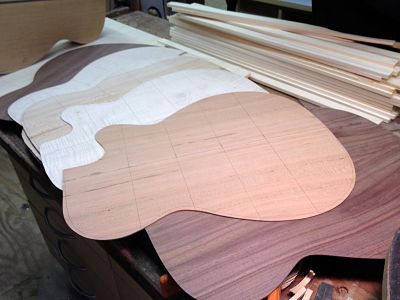 Photographer and videographer Sarah Huntington of The Lincoln Studios has been filming the process for a documentary film "Sound of Home", from the original brainstorming the concepts on paper and conversation at the Fairbuilt shop up til the moment Andrew walks out on stage with it for the first time. While Andrew has no plans to permanently retire his trademark Martin MC-68 from the road, the new guitar likely will become his touring mainstay for many years to come.
For the guitar aficianados, here's a little more detail from Fairbuilt; "The guitars are all identical OM size bodies with Venetian cutaway. The tops and brace material are all Appalachian Red Spruce from West Virginia, all cut from the same log. The back and side material all came from near Fairbuilt's shop, including some from Marty's property. #1 Black Walnut, #2 Black Locust, #3 Soft Maple, #4 Black Cherry, #5 White Oak, #6 Sycamore. The necks are made either of Black Walnut or Black Cherry. Fingerboards and bridges are of Black Locust. They all have 2 way adjustable stainless steel truss rods with 2 pieces of carbon fiber reinforcement on either side of the trussrod which makes for a very stiff and stable neck with all the adjustment needed."
There will be a special event including a concert featuring Andrew McKnight & Beyond Borders along with Marty's band The Spruce Brothers, a preview showing of the film and an exhibit of the guitars for the Herndon (VA) Foundation for the Cultural Arts on June 13th 2015.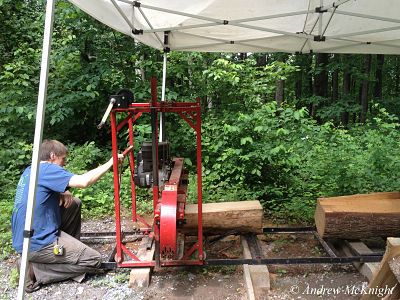 Marty Fair cuts into a spruce log in search of the perfect guitar top.