Like spring in the eastern and northern US, this month's E-Zine is a bit late in arriving. But it comes bearing new treats and treasures and I hope that offsets the tardy arrival a tad. They always say you should keep trying new things, so here is a big one. For the first time we have a solo concert video available for download (details below).
A huge thank you to everyone who came out to the shows last month, from Texas to the Top of Virginia. While the 1st quarter of 2018 was super busy, the next three months look like the Me, Myself & I Agency have been doing anything but booking lately. So we've got to make up some ground filling in autumn tours to the midwest and New England, January in Florida and the southeast, and perhaps a return to Texas and the Deep South at the end of March/early April. House concerts, school workshops, library programs, events for a cause; all of those possibilities would be welcome.
A few days after getting home, my wife was in a bad car accident (indeed beware the Ides of March), but thankfully some stray leprechauns arriving early for St. Patrick's Day somehow kept her safe enough to walk away a destroyed car, though with a lot of bumps and bruises. A special thanks for all the kind notes wishing her well, and on the recent passing of our sweet old orange cat too.
While I feel incredibly lucky and grateful for my good fortune on so many fronts, it has been a bit too intense a start to 2018. As the redbuds, bluebells and dogwoods commence their annual early spring bacchanalia of bloom, here's a wish for you and me to have some peaceful and contemplative moments amongst the chaos of the world, free of tragedy and disaster for just a bit, and with enough leprechauns to save us from the worst sorrows when things get really rough. I look forward to seeing you soon; maybe we'll even get to share some of those moments.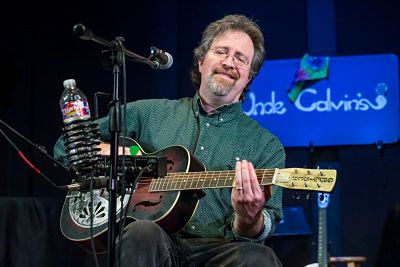 Happily sliding away, Uncle Calvin's Coffeehouse in Dallas, March 2 (Photo: Ira Hantz)
---
JUST ONE LITTLE THING:
It's mostly word of mouth that melds shows, workshops and interviews into some kind of cohesive coalescence of calendars and maps. If there is a venue/presenter in your town, thanks for sharing a little personal recommendation along with this page, http://andrewmcknight.net/programs.
Every month we'll include one small quick action you can do to help spread the word about Andrew's music. Your suggestions welcome too!
---
FR. APR. 13 - PUTNEY VT, Putney Cares Barn, 54 Kimball Hill 6:30pm
SA. APR. 14 - POMFRET CT, Vanilla Bean Cafe, 450 Deerfield Rd. 8pm
SU. APR. 15 - STORRS CT, Special Music Service at U.U. Fellowship, 46 Spring Hill Rd. 10:30am
SU. APR. 15 - MANCHESTER CT, Concert at UU Society East, 153 West Vernon St. 7pm
SA. MAY 12 - LURAY VA, Performing Arts Center, 1 E. Main St. 7:30pm
SA. JUNE 23 - ALDIE VA, Mountville Folk Festival RSVP mountvillefolkfestival@comcast.net noon (AMBB, with Pat Wictor, Tony Denikos, Michael DeLalla and lots more!)
Any show marked AMBB - Andrew McKnight & Beyond Borders
THE NEW RELEASE
THE VIDEO IS HERE! We are excited to launch a new release and a new format; our first video download. Live at Timucua was filmed in a special multimedia concert event at the Timucua Arts Foundation in Orlando during the January tour. It features 12 songs including the previously unreleased "Anniversary (2000 Years Ago)," four guitars, and the stories between the songs too - and accompanied onstage throughout by artist Chris M. Gray creating an original painting start to finish during the 85-minute show. The video is now yours to own for only $11.99. Read more including the setlist and get yours at http://andrewmcknight.net/videosales.
NEWS & NOTES
- One of the students who came to Andrew's songwriting workshops as part of the Step Up! Frederick Songwriting Contest in February won the Middle School Grand Prize at the Awards Concert last Friday night - congrats to Vivien for her great song about Harriet Tubman.
- Andrew spent a week in March doing workshops with elementary and middle school students in western South Carolina and southwest Virginia. From "Telling America's Stories in Song" to the crafts of songwriting and learning instruments in band, it was an exciting week with a lot of great kids.
More on these stories including photos at the News page - http://andrewmcknight.net/news
ESSAY: "A Day to Dream"
April 4, 2018. Fifty years ago today.
Ten years ago I was in Memphis for the annual International Folk Alliance Conference. Even though we were largely sequestered in a fancy hotel and convention center, with a high rise sunset over the Mississippi River and the flat delta floodplain in Arkansas, one could quickly escape to some more "real" experiences despite the tourist trappings. BBQ ribs and the blues of course, but many of us also took the time to make a different pilgrimage as well.
The National Civil Rights Museum is in the old Lorraine Motel, frozen in time on the outside at the moment that Martin Luther King Jr. drew his last breath. Inside the museum is an incredibly powerful experience, intimately confronting the Reconstruction century's legacy of lynchings, boycotts, segregation and Jim Crow. The tour ends on the balcony where the dreamer died....
[Previous essays at http://andrewmcknight.net/blog]