Tomorrow will be the anniversary of the world-changing appearance of The Beatles on the Ed Sullivan Show, before I was even born. Like most musicians, I learned a lot from the Beatles, and their music was a soundtrack for lots of moments of my life despite the fact that they broke up before I was old enough to know better.
When I was a young musician, most of us were in or trying to start cover bands. Our rural area of eastern Connecticut had an outsized wealth of bars hosting live music on weekends, and plenty of people to fill them up drinking and dancing. I think I played in my first bar at age 14. Of course, the goal often was to play a cover tune as close as possible to the original. And naturally, that included trying to figure out Beatles songs.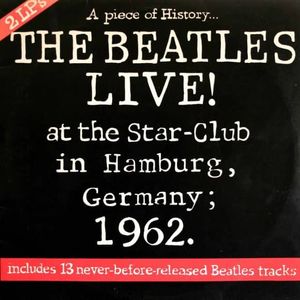 Around that time, someone discovered a pile of reel to reel tape in the abandoned Apple recording studios. It turned out to be a series of recordings made during the Beatles two-week run at the Star Club in Hamburg, Germany at end of 1962. They hadn't written many songs yet, being only in their late teens themselves, so they were mostly cover tunes.  After cleaning up the live recordings as best they could - in mono - a German label released them as a 2-LP set that I managed to get my young mitts on.
It made quite an impression on me. Here were the Beatles, not trying to sound like the original, but sounding like their own original selves. It changed my attitude about how to cover songs - as an arranger and an interpreter. I suppose it still does today, given my sometimes unusual takes on traditional or classic songs ("Worried Man Blues" comes to mind).
The social media posts about tomorrow's anniversary inspired me to go digging about, and like all things, that whole recording is on YouTube (audio only). If you've ever been curious about what the Beatles would sound like as a cover band, here you go - in all it's muffled, loud audience glory. Read more about this window into rock history at Rolling Stone.